Martin Gear Lights Up Venetian Ballroom for Weddings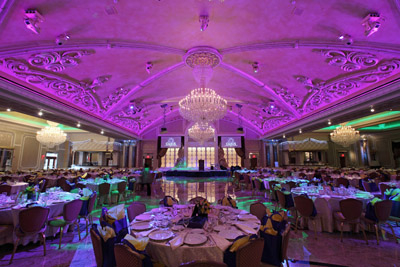 GARFIELD, NJ —MYI Audio/Video Design & Installation supplied and installed a Martin lighting rig for the Venetian's multi-use ballroom including four MAC 2000 Performance and 13 MAC 575 Krypton moving heads, nine MX-10 scanners and 12 Stagebar 54 LED luminaires, all controlled via a Martin LightJockey system.
Lighting design and programming was completed by Chris Obssuth of MYI with programming help from Stephen Cannella.
The ballroom holds 1,000 guests and is used for a variety of special events like corporate events and Bar/Bat Mitzvahs, but it is for 'theatrical performance weddings,' Obssuth says, that the new lighting install sees most of its work.
During a theatrical performance wedding, the lighting system's moving lights are used to spotlight the wedding party during entrances and center spot looks. The moving heads and MX-10 scanners also give a nightclub and dance floor feel as the guests dance, and can also be used for back wall decorative effects. The Martin Stagebars are used for stage lighting — eight upstage and four up front — with additional color to floodlight the stage.
Obssuth and Cannella created several easy-to-operate lighting programs on the PC-based LightJockey controller. "All they have to do is know how to start a computer and they can run the programs," Obssuth says.
The ballroom's owner is pleased with the results, Obssuth said, adding, "the reason why I use Martin actually is because of the reliability of the gear and the support is really good."
Photos: 2009 Seth Litroff Photography
For more information please visit www.martin.com.
Leave a Comment: