Martin Introduces Maxxyz Module System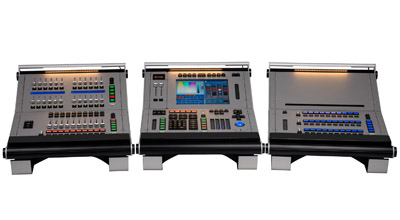 Martin's Maxxyz Modules is a lighting controller system based on a series of modules that can be used in different combinations to create a custom console to fit individual needs. Five modules are available to build a custom console or can be used with Maxxyz PC™, Maxxyz™ or Maxxyz Compact™.
All of them can be used table-top, mounted in a 19-inch rack system or in the Maxxyz™ Module Frame. Users can add additional modules as wings, swap modules within the frame or upgrade to a larger frame to build a new Maxxyz controller.
The module base includes a 2 DMX universe port so that whenever a module is added to a system two physical DMX connections are also added. Each module comes equipped with a built-in Maxxyz PC dongle. With its built-in 2 port DMX, each module is a small Maxxyz console with support for up to 32 DMX universes.
The Cerebrum module is a touch-screen computer and the core of the Maxxyz modular concept. It runs the lighting software on Windows XP Embedded which controls the Maxxyz Compact. The Cerebrum can also be used as a stand-alone unit for control in installations and also functions as a backup system for any Maxxyz console, Maxxyz PC or other Cerebrum module. Combined with the Maxxyz Manager software, it can be used to automate a complex lighting system.
The Programmer module is the main control unit of a Maxxyz system. This module can be used with the Cerebrum or with the Maxxyz PC software.
The Button Module offers up to 30 customizable direct access buttons. Each row of 10 buttons is individually assignable to cuelists, groups, fixtures or presets by the simple press of a Mode button. Furthermore, a set of 5 LCD buttons, 2 Up/Down keys and a scroll wheel provide direct access to functionalities related to each row of buttons. An encoder belt gives flexible access to such features as time, speed and future options. The Button module also works with the new Maxedia 4™ software to recall cues and other functions.
The Submaster module provides an additional 24 handles of controls for cuelists, channels, submasters or inhibitives.
The Playback module adds 10 motorized faders with 15 LCD buttons and a master Go section, extending the playback capabilities of Maxxyz.
The Frame module can accept up to two modules of any kind (except the Cerebrum which only fits in the upper position), making it possible to combine different modules in the same frame — thereby customizing it for a specific application. The included blind plate can be used to hold a laptop or notes and paperwork.
For more information, please visit www.martin.com.
Leave a Comment: