Martin Launches MAC III Profile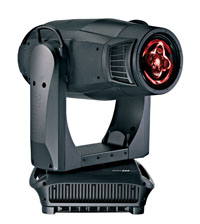 AARHUS, Denmark — Martin Professional announced the addition of the MAC III Profile to its line of MAC moving lights. The 1500-watt luminaire is the first product in Martin's third generation of MAC moving heads, with improvement in optical efficiency and color mixing. Martin also lists MAC III Profile improvements that include hues, beams, beam definition, zoom range, gobos, animation effects, speed of movement, low noise cooling and up to 75 percent more output than current 1200 W profile fixtures. A reduced 1200-watt mode saves energy when the instrument's extra output is not needed.
Martin noted the ability of its CMY color mixing system to provide a wide range of colors including true red and uniform pastels. A fixed color wheel houses seven interchangeable slots plus open. Users can also create color bumps and splits, and the expanded range of color is complemented with variable CTO.
The MAC III Profile also houses two rotating gobo wheels, both of which are five-slot plus open and auto-indexable. The combination of two gobo wheels with high optical separation allows for a variety of morphing effects. Gobos are "keyed" to allow for gobo changes while maintaining its indexed position.
The instrument has a gobo animation system that allows for the projection of rising flames, drifting clouds, driving rain and turbulent water, among other effects. The animation wheel is made of glass and can be inserted without too much fuss, thanks to a new drive system.
Martin is also touting the MAC III Profile's dimming system, which includes a separate shutter for strobe effects and a total front lens blackout. A motorized iris with more blades is also included when a tight beam is required, and a variable rotating, 4-facet prism provides beam multiplication. A linked zoom and focus with an 11.5 to 55 degree zoom range zooms to full in less than a second.
Martin added that the instrument's pan and tilt system (540o x 270o) allows for measured movement, with an absolute positioning system that lets the fixture move to position without the need for a reset. The system can also be set to limit pan and tilt movement when fixtures are rigged in tight spaces.
The MAC III Profile also features a low noise cooling system similar to that used Martin's MAC TW1 luminaire. This traps heat and dissipates it away from the back of the fixture. The instrument also uses a ducting system that sends air out of the fixture via the light path.
The MAC III Profile control modes include DMX 512 A and RDM and the fixture can also be used with ArtNet II and ACN.
The company said the MAC III also takes modularity one step further, making it easier to swap out self-contained modules on site. Other features include new handles on the yoke and a service base with pull out drawer.
A tilt lock keeps the head from moving during transport and servicing. The MAC III Profile also comes with electronic ballast for flicker-free operation, with an auto-sensing switch-mode power system to help make it compatible with international power sources.
The fixtures also feature on-board software that can create a service and event log for download. By logging fixture and event information such as use statistics and service and trouble shooting data, fixture information can stays with the fixture and be easily available.
In addition, the fixtures have an LCD screen Graphical User Interface with jog wheel, intended to make it easier to program, troubleshoot and use the fixture. The LCD screen is battery-powered so the fixture status can be read while it's still in the flightcase.
For more information, please visit www.martin.com.
Leave a Comment: