Martin LC Series LED Panels Reconfigured Mid-Tour for "Winter Jam 2010"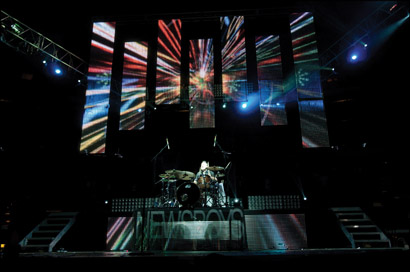 LOUISVILLE, KY – For the Winter Jam 2010 Christian music tour, which featured acts like Third Day, Newsboys, Newsong and Sidewalk Prophets, Axxis, Inc. provided LC Series LED panels as the visual centerpiece – then changed that centerpiece by flipping the panels from a horizontal to vertical configuration as the tour was underway. The original design had the panels mounted along the bottom of a hexagonal truss, but once out on tour, Jerry Holcomb, who served as production manager and set designer along with his audio duties, noticed "we really weren't utilizing them the best we could."
By separating the panels and hanging them vertically in seven strips of varying height, Holcomb noted, the visuals more effectively filled a large space. "Because the eye fills in the gaps between the panels, we were able to expand the space with basically unbroken content across a wall," Holcomb said. "Even though they are low res, you can fill up a lot of space and do a lot with them, and for our budget it's a great product."
The idea for the new design was called into Axxis, and in less than an hour, the tour had updated engineered drawings, flipping the LED panels from horizontal to vertical.
Implementing the new design was also relatively painless, Holcomb added, and was accomplished in a matter of hours. Along with ease of connectivity and "less cabling" than other systems, the P3-100's direct control over the LED screens, treating them like lighting instruments through direct DMX control of brightness, color and pixelmapping, smoothed the transition.
"The P3-100 allowed us to take the content and easily reformat it to the new design," Holcomb said. "It also allowed bands to bring in their own content, which we imported into a Martin Maxedia media server, and the P3 formatted it to fit and function on the fly."
Holcomb also credited the LC Series panels for their transparency and 100° horizontal viewing angle.
Axxis also provided Martin's Stagebar 54 LED battens, which were rigged on the hexagonal truss for audience washes, and Martin's MAC 700s and MAC 250s for the tour.
For more information, please visit www.martin.com and www.axxisinc.com.
Leave a Comment: