Martin M1 Lighting Controller Debuts at Nokia Theatre L.A. Live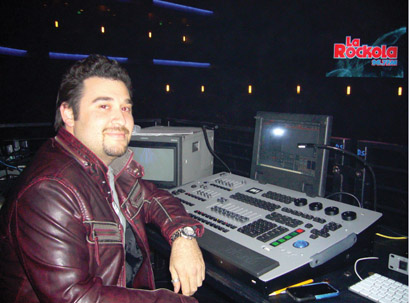 LOS ANGELES – Martin Professional's M1 lighting console made its U.S. debut recently at the Nokia Theatre for a concert event by Larry Hernandez and Roberto Tapia.
Sponsored by Spanish language radio station La Rockola 96.7 FM, the show was programmed on the Martin M1 in only three hours by lighting director and programmer Ed Motts, a 14-year industry veteran and one of the earliest users of Martin's Maxxyz series of consoles.
"The Maxxyz has always been good to me and the support has always been great," Motts said. "I saw the M1 console early on and was initially interested because of the weight and the size, but it also has the same functionality as a big Maxxyz with a price point that is very appealing."
Motts used 8 Universes across a house rig of about 70 moving lights, dimmers and LEDs, and said event went smoothly. He credited the M1 for its speed, the layout of the surface and the number of playbacks at his fingertips. The M1 alos helped him make modifications and changes without delay.
"As it runs the same operating system and software as the Maxxyz, the move from Maxxyz to M1 was pretty seamless," Motts said. "It's new technology, yet very stable, and the speed is amazing. It patches fixtures very fast, and I was using a beta model. The production model is even faster."
Motts, who often does one-offs with Jennifer Lopez around the world using locally supplied consoles that are sometimes not up to snuff, also spoke favorably of the portability of the M1, which can be moved by a single person and checked in as luggage at the airport.
"To be able to have a console like the M1 that I can take on a plane with me is very appealing," he said. "With the Martin family of control products I have no second thoughts at all in putting it on any of my shows. I can program on a large Maxxyz, take it out on the road on the M1, and do updates via Maxxyz PC. I have a Maxxyz Wing as well so if I want motorized faders I have that at my discretion. It's the full range."
All DMX on the show was generated by Martin's Ether2DMX8 router, again without problems or delays. The Ethernet box was also used to save backup cues but was not needed.
As with the Maxxyz controller, Motts has become an early adopter of the M1 and has already used it on a number of corporate shows and other events, including performances by singer/songwriter Ke$ha.
"When people ask me why I go with Martin controllers, at the end of the day it's the support," Motts said. "When I can call someone at Martin and get an answer quickly, or if they don't know the answer they can get it in a timely manner, that's invaluable."
For more information, please visit www.martin.com.
Leave a Comment: