Martin MACs Light Broadway's "Rock of Ages"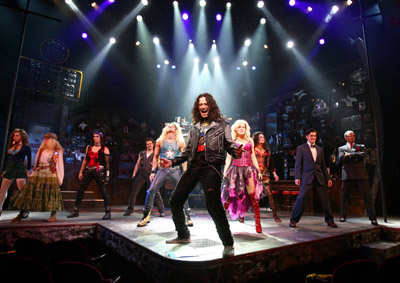 NEW YORK — Jason Lyons, LD for the Broadway musical Rock of Ages, is using a Martin MAC rig for the rock anthem-infused love story at the Brooks Atkinson Theatre. One of the ideas of the show, Lyons said, was to have a "PAR can rock"-styled flavor of 1980s. He started by creating a configuration of MAC 2000 Washes that worked both theatrically and provided aerial looks for the show's big numbers.
"The 2K Washes are amazing and punchy and perfect for this kind of task," he said. "What we really needed was the ability to cut through the washes in a big way, both for punchy aerials and very powerful specials within full stage looks. The MAC III Profile fit the bill perfectly. Even with dense templates and saturated color, the MAC IIIs really stood out as a major part of the stage picture."
Lyons took the wash layout and staggered the MAC IIIs throughout. "A major theme in the show is intersecting paths, so I wanted to make sure we could do beautiful and bold crossing beams in as many ways as possible."
Lyons used six MAC III Profiles to create a symmetrical pattern and placed one upstage center to help drive some of the big concert moments. "I was very impressed with the punch, the imaging and the smooth movement for such a large fixture," he said.
Besides the MAC III Profiles and MAC 2000 Washes, the rig, supplied by Christie Lites, includes MAC 2000 Performances, MAC 700 Profiles and MAC 500s.
CREW
Lighting Designer: Jason Lyons
Production Electrician: Mike LoBue
Head Electrician: Brent Oakley
Programmer: Victor Seastone
GEAR
21 x MAC 2000 Performance
35 x MAC 2000 Wash
16 x MAC 700 Profile
7 x MAC III Profile
2 x MAC 500
Photos: Joan Marcus
For more information, please visit www.martin.com.
Leave a Comment: