Mary J. Blige Tours with Soft Goods from Rent What?, Sew What?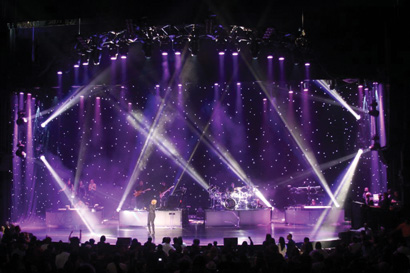 LOS ANGELES – For Mary J. Blige's current tour, Daunte Kenner of DK Show Production & Design incorporated LED illuminated rental draperies from Rent What? and custom-fabricated soft goods from its sister company, Sew What?, into the looks for the show. Rent What? provided nearly 5,000 square feet of classic Starlight LED backdrops for the tour, covering the back wall behind the stage and the walls on both sides of the stage. The company also provided 30-by-60-foot silver Austrian drapery for use as a house drape, which opens after the opening act, serving as a reveal for Mary J. Blige.
Sew What? also custom-fabricated a backdrop for the tour with a digitally-printed city skyline. This was used as a Broadway-esque stage element for several of the artist's songs. Sew What? also created a large white poly muslin drapery for the concert that, because of its translucent quality, allowed for several effects to be used with a combination of front lighting and rear lighting to affect its transparency.
"This was the perfect opportunity to showcase the synergies of both our companies," said Megan Duckett, a partner with Rent What? and Sew What?, noting that the companies worked with Kenner "to create a dynamic and dramatic stage that was every bit up to the showmanship of Mary J. herself. It was a dream project for us."
For more information, please visit www.rentwhatinc.com and www.sewwhatinc.com.
Leave a Comment: