Media Visions Rings in 2010 with Daktronics PST Displays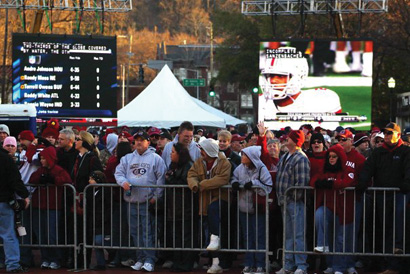 NASHVILLE, TN and BIRMINGHAM, AL – Media Visions, a Daktronics rental partner, rang in the New Year with Daktronics PST displays at Nashville's "Music City Bash on Broadway" and the Papajohns.com Street Festival and Pep Rally in Birmingham. The events capped off a year for Media Visions, during which the company partnered with Daktronics on a number of high-profile events, including tours with Brooks & Dunn, Jason Aldean and Josh Turner.
"2009 was an amazing year," said Mike Cruce, Media Visions president. "Amidst one of the biggest recessions in history, it was moving to see people still going out and enjoying the concerts and events that they love-and what better way to usher in 2010 than with the 'Bash on Broadway,' a festival that celebrates just that."
Hosted by the Hard Rock Cafe, the "Music City Bash on Broadway" featured a 12-foot-by-16-foot Daktronics PST 12-HD display that showed live footage of performances by Gabe Dixon, Jonny Lang and Rodney Atkins and others as fans gathered in downtown Nashville to usher in the New Year with live music and an 80-foot guitar drop.
"It was just awesome to see so many people out and about for the Music City Bash on Broadway," said Wade "Ten-A-C" Slatton of Media Visions. "The Daktronics display really added a nice touch to the night, and the flexibility of the product allowed us to build two displays just like it for the Papajohns.com Bowl the next day."
The following day, Media Visions hit the road to bring a set of two 12-foot-by-16-foot Daktronics PST 12-HD displays to Five Points South in Birmingham. The displays featured advertisements and live footage of bowl games throughout the day.
"The lightweight, portable design of Daktronics PST panels has made them the perfect road partner for 2009," said Cruce. "We're truly looking forward to what 2010 has in store."
For more information, please visit www.daktronics.com and www.mediavisions.com
Leave a Comment: