MGM Grand at Foxwoods Bets on Robe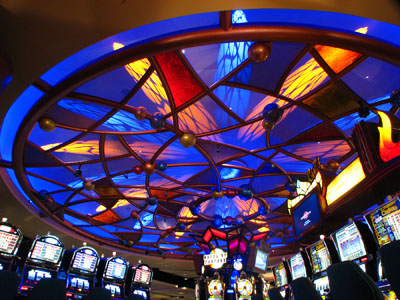 LEDYARD, CT — Over 140 Robe moving lights have been installed into the new 3,800 seat theatre and two ballrooms at the MGM Grand Casino at Foxwoods Resort Casino. The venues are part of a two-and-a-half year, $700 million construction project resulting in the new facility, connected via a moving walkway, which added 180,000 square meters to the existing resort. It includes four restaurants, 825 hotel rooms, 53 table games and 1,400 slot machines.
The Robe fixtures are an integral part of a lighting design by Tom Roach, Foxwoods Resort Casino's lighting manager, and the choice of moving lights followed a shoot-out between Robe and a competitor.
David Middleton of Stage Lighting Representatives represented Robe on the project, and worked closely with lighting suppliers and installers Barbizon Lighting Company to provide the units for that demo.
Robes were selected for their compact size, setup menu and fast, fluid movement and other factors, including their ability to light a wide variety of artists onstage. Ellen Bone from Barbizon New England project managed, and Barbizon's senior systems integrator was Scott Stipetic.
Dave Middleton said, "This was a very exciting project for me; I can remember when the first Robe ColorSpot 700E AT was shipped in to the U.S., and days later it was in Foxwoods Theatre undergoing rigorous testing to gain acceptance by Tom Roach and his staff."
Shortly after, Scott Stipetic, informed Middleton that they had chosen Robe over the competition. "Working with Scott and Ellen was an incredible experience" added Middleton. "We were all in sync on every aspect of this project, and worked diligently to ensure the lighting was everything that the owners had imagined."
There are 37 Robe ColorWash and 27 ColorSpot 700E AT fixtures in the theatre, mostly rigged on to overhead trusses, with an additional 12 units in roadcases to be used as needed, depending on individual production requirements.
They are controlled by one of two Avolites Diamond 4 Vision consoles, with the other taking care of approximately 600 ETC Source Four fixtures, 300 PAR 64 cans, ten 3 circuit cyc fixtures and a 60-foot-wide fiber optic curtain.
There are 60 ColorWash and 24 ColorSpot fixtures divided between the venue's two ballrooms — a Premier Ballroom measuring approximately 31 by 34 meters and a massive Celebrity Ballroom measuring 77 by 70 meters. They are installed in the ceiling, with 48 in the large room and 24 in the small, all in a custom white finish.
The two ballrooms are used for a variety of events and functions, and both have a custom control system that uses a Jands Vista console and eight Vista PCs hooked into a Crestron master controller, complete with a wireless tablet remote for refocusing from anywhere in the room.
Day to day, the lighting equipment is supervised by Tom Roach, and his team, including operators Tony Kolasa and Chad McCrae, both in the theatre, with Kathy Giebler working in the ballrooms.
For more information, please visit www.robe.cz.
Leave a Comment: