MTV's "Real World: Brooklyn" Taps Vibrant Design for Sets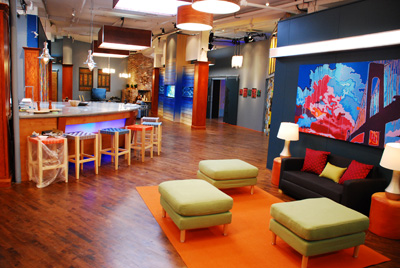 NEW YORK — MTV's reality series, Real World, kicked off its 21st season this year with a move to Brooklyn and an eco-friendly facelift by production designer Ellen Waggett of Vibrant Design, LLC. The third person to design the show during its two-decade run, Waggett has a wide range of film and broadcast television credits. Waggett was production designer on ABC's Hope & Faith from 2004 to 2006, art director on the first season of FX's Damages, and won an Emmy Award nomination for Outstanding Art Direction in 2004 for her work on the NBC series Whoopi. She also served as production designer on Stephen Colbert's A Colbert Christmas, as well as Chopped, Worst Cook and Food Detectives for the Food Network and Tim Gunn's Guide to Style season two. She recently also co–designed NBC's new show Late Night with Jimmy Fallon.


For Real World: Brooklyn, Waggett came up with the loft that served as a home for the show's participants, transforming an old warehouse on Pier 41 in Brooklyn's Red Hook district. Based in Brooklyn herself, Waggett sourced most of the flat's furnishings and decorative objects locally and recycled much of the décor back into the neighborhood.
Waggett was hired a year ago to design the initial space the production had committed to, in downtown Brooklyn. Just as construction began on the first space, a different property on the East River, with views of the Statue of Liberty, the Staten Island Ferry's route and the Verrazano Bridge, was discovered, and the production was quickly moved.
"It was a much better location but presented new challenges since it was a commercial building that we had to get up to code," Waggett said. The industrial space included an exposed brick fireplace, and it was reconfigured around a new hub — a central kitchen area whose freeform counters recall the prow of a ship, fitting imagery for the building's riverside locale. As a frequent designer for Food Network, Waggett is no stranger to designing working kitchens, but this was went far beyond that. "This was more than interior design and art direction. We had to design a livable space with real plumbing and a real preventions system and divide a totally empty space into a working apartment for eight people — all in a matter of three weeks."
Waggett began by landscaping the pierside site and planning "a grand arrival" for viewers with visual surprises around every corner. "I love thinking about the impression people get when they enter a space," she said. Waggett fenced off the entire pier and built out the dock and a small private beach, and added exterior steps. The exterior of the building was treated with a variety of hand painted murals. A huge staircase leads to the apartment's anteroom where enormous sliding doors open onto a hallway filled with bold art and the show's signature fish tank. Visitors walk around the aquarium to start exploring the rest of the flat's generously proportioned rooms.
Waggett was presented with a set of 'givens,' which helped determine her design. "There's a very clear list of totems from show to show — a pool table, a fish tank — and how those things have to relate to each other," she said. "The producers set up situations that require the roommates to interact, so everyone has to share a bedroom and there are no doors, except on the bathrooms. I had to design around the concept that everyone can keep communicating all the time."
Waggett was also asked to create an eco-friendly apartment and to source furnishings from Brooklyn, if possible. "The show had done one 'green' season and wanted to do more of that this year," she said. "They also wanted me to use local artists and crafts people. So I hired two young Brooklynites and sent them on a mission to search out everything cool in the borough from the perspective of the show's 20-something demographic."
She selected a variety Brooklyn-based artists and artisans who had already begun designing custom pieces when the location was changed. "We had to take pieces we had already fallen in love with and repurpose them in the new space," says Waggett. "Fortunately, they worked beautifully in the new apartment." About half of the furniture was custom made from renewable materials; the rest was repurposed from flea markets and other shops.
The result, she said, was "a very colorful, very urban explosion of ideas. I have a very colorful aesthetic and the apartment reflects that. I like happenstance — what accidentally happens when you combine things, and they suddenly look magical. As long as I choose things I feel passionately about, I know they may initially look like they will not work together at all, but when you get into the space, they're great together! In this case, we had so many wonderful fine artists working with us, so I got to select all this amazing art that I loved…. And then watch it all sparkle and pop in a whole new way once it was all hung together in this way!" Waggett opted for sophisticated slate-gray walls in the common spaces that make the contemporary artworks pop.
Waggett named each bedroom for a Brooklyn landmark/neighborhood. She selected bold vertical stripes for the Coney Island bedroom; the Grand Army Plaza bedroom was based on custom-designed furniture by Wonk, traffic symbol sheets by Dwell and an emerald green wall; the peaceful Promenade Bedroom displayed a much more refined and elegant side of the house, with its black and white photographs, silver sconces, and Damask bed linens. The office, with a computer powered by a bicycle-operated generator, sports a "beaded curtain" archway made from old wallpaper sample books, and a large sculptural painting by Craig Anthony Miller, made from an old car hood.
"In the end we were true to our promise to return materials to our Brooklyn sources," she said. "Everything we do in this business is normally so disposable and so quickly finished, but this project offered an opportunity to keep the design out there. Even the kitchen counters' Icestone surfaces were cut down and returned to the distributor for reuse."

"As Production Designer we loved Ellen's work on the Brooklyn house," said Jim Johnston, the show's producer. "The site in Red Hook was memorable, and the response from viewers was terrific. The roommates and crew loved it."

For more information, please visit www.vibrantdesign.tv.

Leave a Comment: