Multimedia Farms Chooses Barco for Portable LED Solutions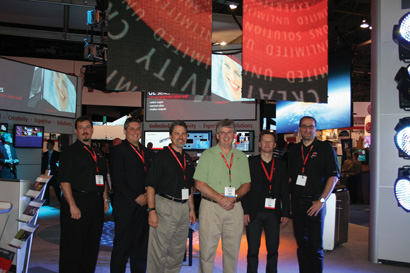 SANTA CLARA, CA – Multimedia Farms, also doing business as LED Display Rentals, has acquired Barco's C11 LED indoor/outdoor display for use in the company's LED rental and staging business. Barco's C11 surface mounted LED tile is an indoor/outdoor solution for rental and permanent installations. Featuring 11mm pixel pitch and 5,000 nits, it consumes less power and generates less heat than other LED displays. Tested to Mil-Spec 810F standards, it features a fanless IP66 enclosure, making it waterproof. The use of SMD (surface mount diode) technology allows viewers to get close to the screen and still perceive a high-resolution image.
"The C11 is the perfect indoor/outdoor solution for our business," said Bruce Neff, a founder and vice president of Multimedia Farms, which purchased enough C11 tiles for several screens and provide the flexibility to meet a variety of customer needs.
Originally established as a mobile LED display supplier, the Multimedia Farms is now going into "inside work," offering built-up screens for tradeshows and corporate environments.
"The light weight and low power consumption of the panels is also ideal for the types of applications we sell. With the right accessories and Barco's dedicated technical support, we can design a custom, easy-to-use solution," said Neff.
Multimedia Farms will provide a 16-foot-by-9-foot Barco Elements display for use at Spotlight Lexington for the upcoming World Equestrian Games in Lexington, Kentucky. It's the first time the event will be held in the U.S., and will serve as the first opportunity for Multimedia Farms to use the C11.
Neff is also planning to acquire Barco's C8v, an 8mm pixel pitch (virtual) 8,000 nits LED tile, which will make Multimedia Farms the largest stocking partner of trailer-based C11 and C8v products in the country. "The C11 is flexible, and doesn't have to be permanently mounted on a trailer. With the C8v, we will have matching B16 trailers, so customers can choose different resolutions of mobile LED," said Neff.
For more information, please visit www.barco.com.
Leave a Comment: