New Fixture Uses LIFI Plasma Source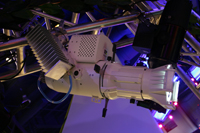 LARGO, FL — The Nemo, now available from SeaChanger by Ocean Optics, uses a LIFI plasma source to deliver 15,000 lumens on 180 watts of power. That measures out to be about 83 lumens per watt, or about six times the efficiency of other color engines with conventional bulbs yielding closer to 12 lumens per watt. The solid state plasma source also reduces heat load and has more than 15,000 hours of projected lamp life, making it a low-maintenance alternative to conventional fixtures used in domes, worship ceilings and atrium areas. Available with all SeaChanger novel color engines, the Nemo uses all existing ETC Source Four front-end barrels and an assortment of ETC FOV optics.
The SeaChanger Nemo is convection cooled, silent, and has dichroic filters touted for their transmission efficiency and color consistency. The Nemo is now available in an indoor profile fixture. An outdoor profile fixture for landscape and open-air venue lighting will be available in April 2009.
For more informaton, please visit www.seachangeronline.com.
Leave a Comment: