Orlando School's 400-Seat Theater Equipped with Elation Gear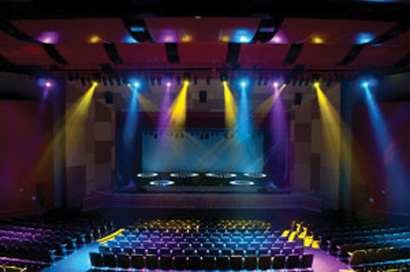 ORLANDO, FL – After nearly 60 years in the same building, Edgewater High School's roof and walls were crumbling. A large chunk of the Orlando school's auditorium ceiling had actually caved in. So in January 2011, Edgewater's students made a long-overdue move. The new $83 million building, designed by CT Hsu + Associates (Orlando), is on a 45-acre campus adjacent to the original school. The new facility has 345,000 square feet of space and features new technology including a full TV production studio and soundproof practice areas for the band.
Production Resource Group Orlando (PRG) equipped the new auditorium with 170 fixtures, including LED fixtures and DMX moving heads from Elation Professional. They are operated wirelessly via Elation EWDMX wireless DMX transmitters and receivers.
"I don't believe there is a public high school in the country with this level of stage lighting or sophistication of technology installed," said Elation sales rep Mike Quinn of Freed Sales (Miami), who worked closely with the Orange County Public School District (OCPS) and PRG to implement the new system.
The new Elation gear includes six Design Spot 1200Cs, six Design Wash 575Es and six Design Spot 575E moving heads; 48 ELAR108 PAR RGBW LED par cans; 12 Design LED 60 TRI Strip 180-watt tri-color RGB strips; 10 Design LED 60 Strip WA white and amber LED strips; and 10 Design Wash LED 60 180-watt LED moving head washes.
For atmospheric effects, the new theater has an Antari DNG-200 heavy fogger and Antari HZ-500 water-based hazers, also from Elation. Four Elation EWDMX systems, each consisting of a wireless DMX transmitter and receiver, along with two additional EWDMXR wireless receivers allow the lights to be run without cables.
The wireless system "cut down on installation time and labor time, and made for a cleaner install all the way around," said Quinn, noting that the system has "worked flawlessly" and is also safer for the school environment.
Quinn credited PRG's open house for sparking interest in the Elation gear, citing price as a key draw. "Traditionally this school district had always had conventional lighting in the auditoriums – straight-up dimmers. But one of the guys said he thought there must be a better way to add a little excitement on the stage, make it a little more attractive and enticing," Quinn said.
This led to a discussion about LED technology and how it's being used in the entertainment industry. "We talked about how it would really spark the kids' interest if they could have the lighting capabilities that they see on TV and at concerts," said Quinn, noting that a professional-style stage lighting rig would have the additional benefit of serving as a teaching tool for production arts students.
"We wanted to give them moving head lights, LED color mixing – anything they might encounter in a future job," said Quinn. "The system is a full-blown production arts teaching tool. PRG executed the installation and they did a wonderful job.
"Not every kid is going to be a successful actor," Quinn added. "The majority of students who go into production arts will end up in technical support roles for theaters and venues. Having a cutting-edge lighting rig to learn on, with LEDs, moving heads and special effects, would help prepare them for a career in production technology."
Although many school officials agreed with this line of thinking, Quinn and PRG faced an uphill struggle in getting the district to upgrade from the conventional lighting. "At every step, we had to counter the arguments of those who did not want change," said Quinn. "But we eventually managed to get the specs in the bid. PRG was one of the requested bidders and they wound up winning the bid."
In the end, even the biggest skeptics from the Orange County Public School District were convinced. Shortly after the system was installed, a demonstration was given to school officials, production arts teachers and architects who worked throughout the district. Unknown to the audience, the demo was run by students who were given a quick class by PRG personnel on how to operate and program the lights, just one hour before the presentation. When it was revealed that the students had known virtually nothing about running the lights just an hour earlier, said Quinn, "it proved to everyone the merits of the system as a teaching platform."
For more information, please visit www.elationlighting.com and www.prg.com.
Leave a Comment: