PixelRange Gear Helps Transform Wavy Backdrop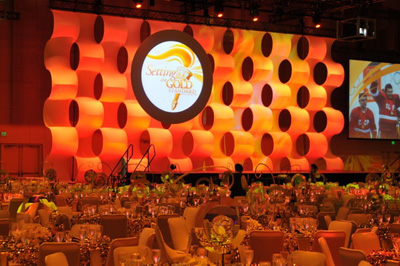 CINCINNATI — Goodwin Lighting Services recently supplied a number of PixelLine 110s to light a wave set design for an insurance company's annual sales meeting and party. The event was organized by Accent On Cincinnati. Event designer Joe Rigotti came up with the design, which consisted of white stretched fabric over a custom-made frame. The individual curves are modular and flexible, hooking together to form the desired height.
As LD Glen Goodwin noted, "each piece of the stage back drop is 4 feet wide and 30 feet tall. I lit each row top and bottom with a PixelLine 110, set up so I had control of each strip. The challenge was make each function hosted in the ballroom look different. I needed to be able to transform the look of the stage and be able to create kinetic color changes to make the set come alive."
The three-day event had three transformations, with breakfast, lunch and a party at night. The lighting rig played an important part during the changes, with MAC, ShowGun and Vari*Lite automated fixtures allowing for efficient transitions between functions.
"I chose PixelRange fixtures because of their brightness, compactness, internal effects and ease of use. I particularly like that you can go from manual to DMX very easily and when you return to manual," Goodwin noted. "It remembers what setting was last used."
A Hog IPC with 5 universes was used for control and ESP vision for pre-programming.
For more information, please visit www.pixelrange.com.
Leave a Comment: