Planning a Meeting for Meeting Planners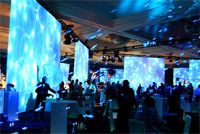 LAS VEGAS — Planning a gathering for professional meeting planners raises the question. How do you wow the people who try to wow others? For an opening reception for Meeting Planners International, held recently at a Caesars Palace ballroom, Encore Productions used 32 digital lighting fixtures from High End Systems. Michael Dalton, lighting and production designer with Las Vegas-based Encore Productions, said it required "a very high level over the top production with months of planning." Dalton was familiar with DL.1 and DL.2 but this was his first time to use DL.3. "I try to stay current with all automated fixtures," he said. "DL.3 allowed us the flexibility in not having to physically touch each projector with the timeframe involved in load-in."
Dalton's design featured 30 DL.3s and 2 DL.2s, controlled through a Wholehog 3 lighting console. The Digital Lighting fixtures combine lighting effects with digital images, making it a lighting and video projector all in one moving-yoke unit.
The plan was to synch up the music and have all the same images running at all the same times on the screens. "There were 18 surfaces total, including four 40-foot-by-20-foot screens and 14 20-foot-by-20-foot polysilks," he said.
The digital lighting fixtures, had a number of advantages, including "remote focus capabilities, extreme keystone correction, and of course the collage generator feature, which was really the bonus on this one."
High End Systems' collage generator allows multiple digital lighting fixtures to create single horizontal or vertical panoramic images. "I used all custom content except for a few very short graphic clips," Dalton said. "Everyone loved it. In the end we had more people asking about this design than most any other project."
Along with Dalton, the production crew included Larry Lee, executive producer, JJ Wulf, lighting programmer, Ryan Zimmerman, production manager, Stuart Falk, director of hotels, Chris Tousey, CAD and 3D renders, Ray Gonzalez, chief technical director, Anne Peterson, video content and editing, with additional support from Peter Kyte at VER Las Vegas and Scott Kinnebrew at High End Systems.
For more information, please visit www.highend.com.
Leave a Comment: