PLSN's Inaugural Gold Star Awards Honor Product Innovations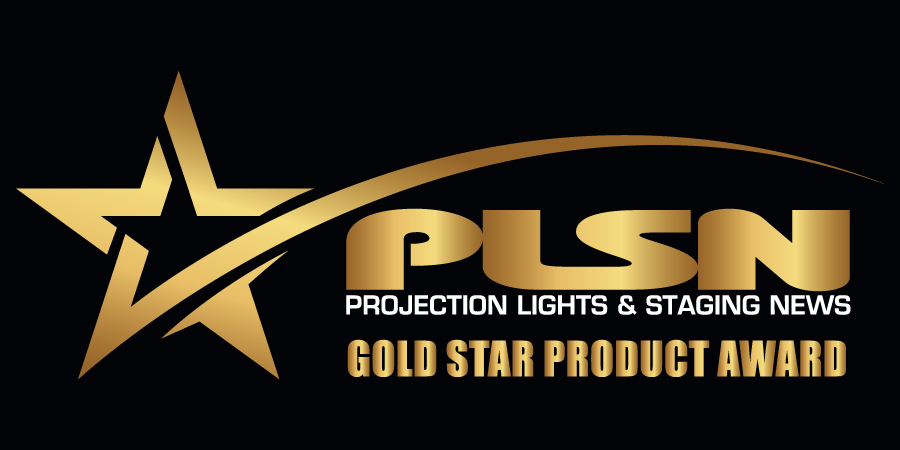 LAS VEGAS – The inaugural PLSN Gold Star Awards honored product manufacturers with a total of 24 awards bestowed, in recognition of each product's quality, innovation and ability to expand the technological boundaries of live event production. Product categories range from lighting fixtures to video products, software, rigging automation and more. The awards were bestowed earlier this month, during the LDI convention in Las Vegas. PLSN editor Nook Schoenfeld and publisher Terry Lowe met with the winners to present the awards on the exhibition floor.
More details from PLSN (www.plsn.com):
At this time of year PLSN wishes to thank all the manufacturers of quality stage equipment that advance technologocial boundaries and expand our tool boxes with new products. 2017 marked the Inaugural year of the PLSN Gold Star Awards, honoring the manufacturers of premier equipment in a specific theatrical field. 24 separate categories were chosen that encompass various lighting fixtures, video products and handy devices that can be used on a live event. The 24 recipients received their awards last weekend, coinciding with the timing of the LDI convention.
The idea for these awards stemmed from the renowned PLSN column The Buyer's Guide. Each month, the guide lists a certain category of lighting, video or staging gear (such as next month's column on strobe lights). Each month the editor often found that one particular fixture from a manufacturer would excel over the field.The editor and his writers sat down to a roundtable with a couple of Lighting Designers and stage technicians that know their gear. They hammered out a bunch of categories while jpegs and video links were viewed, narrowing down each field and often recommending new categories.
PLSN is proud to present the Gold Star Awards, which Commemorate the Advancement in Excellence Of Theatrical Products in the Manufacturing Field, in the following categories:
Best New Hybrid Light: Robe MegaPointe
Best New Moving Batten: Elation Professional Chorus Line 16
Best New Effects Light: CHAUVET Pyxis
Best Hard Edge LED Spot: Claypaky Axcor 900
Best New Strobe: GLP JDC-1 Strobe
Best New Club Light: ADJ Vizi CMY300
Best New Light for Theater: HES SolaTheatre Frame
Best New Moving Light for Camera: Martin Professional by Harman Encore
Best New Beam Fixture: Philips Vari-Lite VL6000 Beam
Best New Interior Architectural Light: Chroma-Q Inspire XT
Best New Conventional Fixture: Mega-Lite Color Pac Series
Best New Small Gadget: RC4 Wireless RC5 EASS system
Best New Eye Candy: Blizzard Lighting LOOP
Best New Exterior Architectural Light: D.T.S. Illuminazione srl BRICK
Best New Battery Operated Light: Astera AX1 Pixel Tube
Best New Media Server: disguise gx Series
Best New Video Touring Carts: Oracle LED Systems (Triton VT) Black Widow Creative Touring System
Best Touring Video Tiles: ROE Creative Display CB8
Best new HD Video Tile: Vanguard LED Displays Rhodium Series
Best New Video Switcher: Blackmagic Design ATEM Television Studio HD
Best New Software: Avolites Ai Media Server Software Ai v10.1
Best New Motion Device: Kinesys Apex Chain Hoist
Best New Truss: LITEC MyT Folding Truss Steroid Roof System
Best Stage Hardware: Whirlwind PL2 Power Link Stingers
For a closer look at individual product features, please be sure to read the Gold Star Product Awards recap in the Dec. 2017 issue of PLSN.
Leave a Comment: