PNC Bank Uses Chauvet LEDs to Support Penguins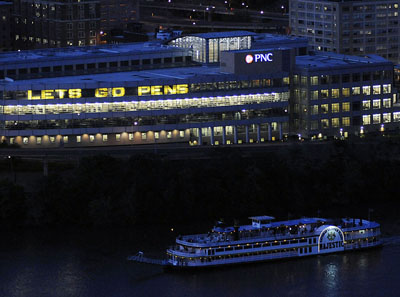 PITTSBURGH — Four stories above the sidewalk, workers placed lights inside a PNC Bank building to illuminate 10-foot-tall letters that collectively read, "Lets Go Pens," supporting the Penguins, winners of the 2009 Stanley Cup. PNC, headquartered in Pittsburgh, also cheered on the Pittsburgh Steelers, victors of the 2009 Super Bowl in February.
Event and multi-media producer Benack Sound Productions, Inc. suggested that the bank use energy-efficient Chauvet LED luminaires for this event in part because they mirror PNC's commitment to environmental conservation.
In 2000, PNC opened one of the nation's largest "green" buildings, the 650,000-square-foot PNC Firstside Center, which sits along banks of the Monongahela River and adjacent to the heavily traveled Parkway Interstate. That location served as an effective 80-foot-wide billboard supporting the home teams.
Flip Benack, owner and president of Benack Sound Productions, has been a Chauvet dealer for the past two years. "We have been doing many events for PNC and I came up with the idea that we should try using the LEDs," he said. "We've incorporated LEDs for the last couple of years and now we're getting rid of the conventional lighting because LEDs are so much easier to work with. They are good quality products."
To illuminate the 10 letters, Benack used 10 COLORado 2s and 20 COLORado Panel fixtures instead of the PAR cans he previously used. Although the color combinations are nearly limitless for these fixtures, Benack chose to stay with white. "We blasted all the white we could get," he said of each fixture's 48 2- to 3-watt LEDs.
Benack sequenced the lights to display one word at a time, followed by full lighting for all the words.
Bank employees appreciated the lighting change. "Before, there was so much heat and power consumption and the lights were in offices and cubicles where people are working. It was a pain because people were turning off the lights because they got so hot." Using the LED gear, he added, that was no longer the case.
PNC garnered a lot of media attention, Benack added. "All the local TV stations had the lights on the news when we were installing them." While Benack didn't get the national TV coverage he and bank officials had hoped for, he said he's got another shot. "The Steelers, they're always in the playoffs."
For more information, please visit www.chauvetlighting.com.
Leave a Comment: