Prestonwood Baptist Uses Digital Projection Lightnings for Sermon Simulcasts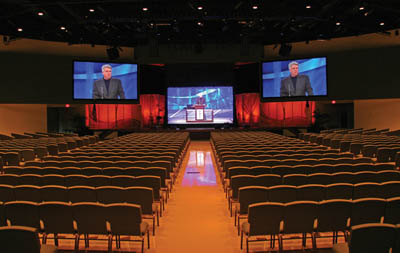 ATLANTA — Prestonwood Baptist Church recently added three Digital Projection Lightning projectors and two Highlite displays to help worshippers at its 1,500-seat North campus and 7,000-seat main campus experience a real-time simulcast of services led by head pastor Dr. Jack Graham. Working with DPI's regional manager, Chris Hinkle, Prestonwood Baptist's director of media, added two 20,000 lumen Lightning 40-1080p projectors to light the 19-foot-by-28-foot screens that frame the main campus stage. An HD switcher acts as the primary video source for the two screens.
The North campus uses one Lightning 40HD on the center screen and two Highlite 12000 projectors on screens that flank the stage. A Kayak SD switcher provides source signals to the two Highlites, while a ScreenPro-II supplies content to the center Lightning. Each projector is connected directly to its source through fiber by way of DVI-D extenders.
The result was "exactly what we hoped for," Hinkle said, adding that "DPI's projectors allow us to communicate more effectively and efficiently with today's technology-driven society."
For more information, please visit www.digitalprojection.com.
Leave a Comment: