Projected Video Content Cuts Costs for Terry Fator's Crew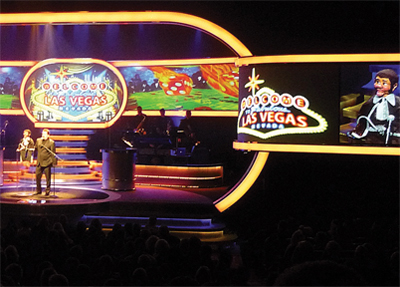 LAS VEGAS — He may have his face plastered all over town and a new contract for a five-year run at the Mirage in Las Vegas, but the production crew for Terry Fator, the singing ventriloquist who won NBC's America's Got Talent competition, still had to keep the budget in mind when it came to creating larger-than-life video for the show.
"The set designer, Andy Walmsley of American Idol and Slumdog Millionaire fame, had a concept that included 500 LEDs for a light box montage, plus another 6-foot by 110-foot ribbon of LED video," said LD Ted Mizrahi. "We all knew that would cost millions, so I brought in the concept of going with projectors.
"Using the Axon, we were able to save $30,000 on content," Mizrahi added. "Originally, we had a $40,000 video budget for custom content, but there's such a large content library in the Axon, we only needed to spend $10,000 of the budget on content."
Mizrahi specified five High End Systems' Axon Media Servers, not only to meet budget constraints, but for the need for content flexibility and curved surface support. They were supplied by PRG Las Vegas, as were the rig's 30 High End Systems' Studio Spot 575s, 30 Studio Color 575s and eight Cyberlights.
"I use the Axon for more than just video," continued Mizrahi. "The server replaces the need to have backdrops painted, so on the set I have fake curtains, artwork, paintings and video — all making it appear as if there's more lights and more depth. In addition, I'm using every feature of the Axon, from convex and concave keystoning on top of custom masks, to the SDI input for live camera effects.
"There's no real set-up involved," Mizrahi added. "Axon is completely DMX-driven. You just set your DMX addresses, and you're ready to get to work.
The Terry Fator Theatre, formerly the Danny Gans Theatre, is a 1,265-seat venue within The Mirage. With his cast of eight puppets that "sing" along with him, Fator performs five shows per week, impersonating "thousands" of celebrities ranging from Elvis and Marvin Gaye, to James Blunt and Maroon 5.
For more information, please visit www.highend.com.
Leave a Comment: