Projecting B.B. King and the Delta Blues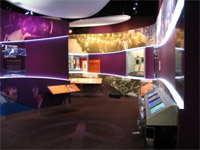 INDIANOLA, MS — Bowen Technovation selected Christie projectors to introduce the career of blues legend B.B. King — 60 years and counting — to visitors at the B.B. King Museum and Delta Interpretive Center, a 20,000-square-foot facility that profiles the artist and the musical traditions of the Mississippi delta region. "We designed the system to enable us to use Christie projectors exclusively because we felt we could support them better than projectors from multiple manufacturers," said Jeff Bowen, president and creative director of Bowen Technovation, which provided design, integration and programming for the media systems used in the museum.
The museum uses Christie's DW5k HD projector to give visitors an introduction to B.B. King and his music. It's used for a 16:9 HD video presentation sourced from an HD video server and presented on a motorized 168-inch-by-94.5-inch screen. The museum also uses Christie's DW5K HD, a 5300 lumen, three-chip DLP projector, which features a 2000:1 contrast ratio and Xenon illumination, and two Christie LW300 WXGA LCD projectors.
The first of the two Christie LW300 projectors is used for the museum's On the Road exhibit, also nicknamed The Bus. The installation showcases an oversized re-creation of the 1940s-era bus, similar to the one B.B. King used for touring in the 1950s. It has been outfitted as a small theater where several dozen visitors can watch a video about life on the road in the segregated south. The film is displayed on a custom 62-by-34 inch screen in the bus's windshield.
The Christie LW300 in The Bus installation is mounted 12 feet above ground. It produces images in a native 16:9 format, features a 1000:1 contrast ratio, 10-bit image processing, maximum input flexibility and a large selection of zoom and fixed lens options.
The second Christie LW300 is mounted on a ceiling cloud in the Exit Theater, where visitors wrap up their tour by watching Coming Home, a video about B.B. King's annual return to Indianola to perform a live free concert at his blues venue, Club Ebony. The projector displays content from the HD video server on a wall-mounted 16:9 screen, which measures 116 by 65 inches.
"The Christie projectors are designed for this type of application," said Jeff Norris, Bowen Technovation's project manager. "They're very reliable and capable of handling the long hours demanded of them. Operating costs are very reasonable and lamp maintenance and replacement are easy."
The museum designer for the B.B. King Museum and Delta Interpretive Center is Gallagher Associates of Bethesda, Maryland. The exhibit fabricator is Exhibits Concepts of Vandalia, Ohio.
For more information, please visit www.christiedigital.com.
Leave a Comment: