Pyrotek Special Effects at 2010 BET Awards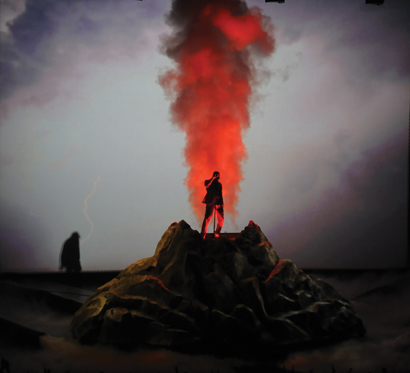 LOS ANGELES – The 2010 BET Awards, broadcast from the Shrine Auditorium in Los Angeles, featured an assortment of visuals from Pyrotek Special Effects including pyrotechnics, cryogenics, propane gas flame effects and low-lying fog for an artist lineup that included Kanye West, Diddy, Usher, TI and others. Pyrotek Special Effects designer Cornacchia worked with the production's design team, including Bob Dickinson, lighting designer; Brian Stonestreet, production designer; Alana Billingsley, art director; Cossette Productions' John Cossette, executive producer; and Jesse Collins, show producer.
The show began with Kanye West performing "Power." He stood atop a mountain peak with LED light fixtures coloring a cryogenic wall. The video wall provided geographic scenes including snow-capped mountains, then a dark snowstorm scene, complemented by snow machines incorporated into the set.
Sean "Diddy" Combs performed with a total 350 effects including a close-proximity fireworks display for his song, "Hello Good Morning" from the forthcoming album, Last Train to Paris. The performance included Dirty Money collaborators Dawn Richard and Kalenna Harper and T.I.
A last-minute change in the set layout, where two 4-foot-by-16-foot risers were added for the orchestra upstage on both sides of the set, challenged the special effects designers.
"Our windows were even more limited after they added the risers on either side," Cornacchia noted. "Diddy's whole design was to not have effects just going upwards, he wanted things to come across, going out, essentially every direction in an asymmetrical fashion."
Using various red and silver mines along with comets with white flash, the crew created the desired mayhem of fireworks Diddy was after, cued to the fast-paced beats near the conclusion of his performance. The result: a "flashy full-throttle scene" that closed out the performance.
For another performance during the show, Cornacchia worked with T.I. and production manager Curtis Battles for his performance of "Yeah Ya Know" from his soon-to-be-released album, King Uncaged, which featured Blink 182 drummer Travis Barker.
"We changed things up for T.I. and made a hot, and I mean hot, setup with our equipment," Cornacchia said. The set was filled with propane gas effects to ignite the stage and was accented with additional scenic flames illustrated by the video walls.
Upstage right and left of Barker were two seven-foot-wide Dragon Tail units that created a lazy-flame look throughout the song. The beginning of every verse commenced with large-scale bumps of fire that would each shoot seven-foot-wide flames about 15 feet vertically on each side of Barker.
During the chorus, four additional Dragon Heads were positioned across the upstage portion of the set. The Dragon units created flame columns that were manually operated in a chasing sequence by pyro shooter Keith Hellebrand.
Cornacchia worked with his pyro crew chief, Bob Ross, and their effects team, which included four pyrotechnicians, to coordinate the setup and assembly of the displays with the stage manager, Gary Hood.
Other performers using special effects during the evening included Usher,
DJ Khaled (with Ludacris), Queen Latifah and Trey Songz.
For more information, please visit www.pyrotekfx.com.
Photo by Ady Gil
Leave a Comment: