Radiant Church Makes AV System Switch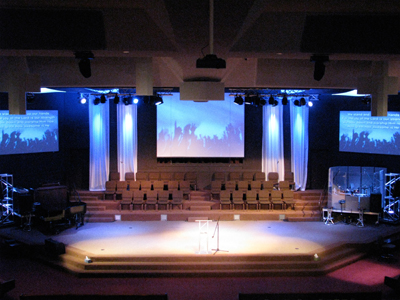 COLORADO SPRINGS, CO — Radiant Church, which had been using one projector at the front of its worship center and one at the rear, with digital switching performed manually, recently upgraded to a system incorporating Aurora Multimedia's WACI NX+ control system, WACI-PAD control panel and IBZ-1041W wireless touch panel to provide video switching between multiple projectors, cameras, monitors and feeds for digital signage. "Radiant Church has more than 1,000 members, and a key way to reach them is through multimedia. To achieve this, the church's recent renovation included an updated A/V system and digital signage displays located throughout the facility," said Tom Rutledge, owner of Worship Resources, the Cincinnati-based AV specialist that installed the new gear.
For the renovation, Worship Resources added two more projectors and monitors at the front of the worship center and replaced the projector in the back. The installation crew also added digital signage displays in the lobby and in the church's Mission Café coffee shop. The new control system, control panel and wireless touch panel perform the video switching functions.
Aurora's WACI NX+ non-proprietary IP control system can be accessed through any Web browser running on a wired or wireless Ethernet network. There are numerous RS232/422/485, IR, relay, and DSP control ports available, and an IR learner comes standard. Each WACI unit contains its own resources, preventing slow performance and bottlenecks caused by shared systems.
The system also offers a wide range of OS compatibility and server-side operation, which means that no dedicated server is required and no special applications need to be installed on the PC to access the WACI control system.
"We chose Aurora equipment for Radiant Church because it has the flexibility to function as a control device for video mixing and switching," Rutledge said. "Not only are Aurora's control systems and panels easy to integrate into any system, but they also allow us to create our own look and feel for the graphic user interfaces. Radiant Church has been very happy with the results and their new system's ease of use."
For more information, please visit www.auroramultimedia.com.
Leave a Comment: