R&M Materials Handling, Inc. to Demo Stagemaker SM2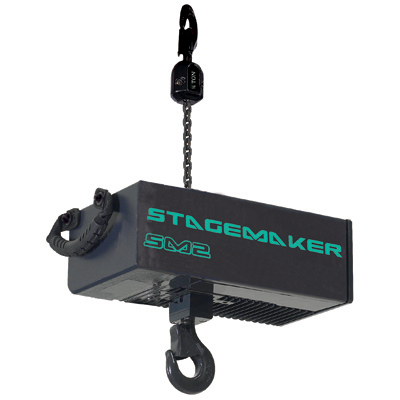 ORLANDO, FL —R&M Materials Handling, Inc. will be featuring the Stagemaker SM2 hoist at Infocomm booth #1653. The SM2 is designed for hotel ballrooms, churches, scenic arts, theatres, concert halls, clubs, exhibition halls and trade shows. R&M said the SM2 has been designed to be light and compact, but still has a lifting capacity of ¼ ton. It is also designed to meet the requirements of touring, roof systems, rental fleets, temporary setups and permanent installations. It fits within 12-inch box truss and is particularly well suited for smaller venues with light pick point limitations.
"The SM2 provides all of the advantages of the SM5 in an SM1 body," said Mark Arthur, director of customer service & product support, adding that it "offers compact dimensions while providing the time tested product features that you have come to expect from the Stagemaker Concert Hoist line."
Features include AGMA quality carburized and precision ground gearing, low noise level, a smooth release of the chain from the hoist, a single chain system to help prevent jamming, a combination brake torque limiter system and a quiet, low maintenance DC disk brake that overrides the clutch in the event of slippage.

For more information, please visit www.rmhoist.com or www.stagemaker.com.
Leave a Comment: