Rock and Roll Hall of Fame Concerts Get Assist from Lighting, Video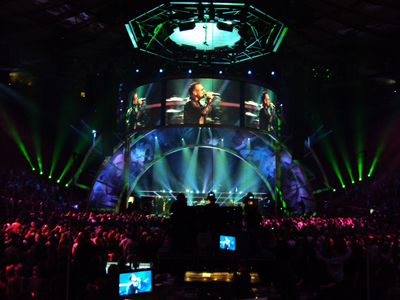 NEW YORK — Rock fans savored two nights of performances marking the Rock and Roll Hall of Fame's 25th year at Madison Square Garden. U2, Stevie Wonder, Bruce Springsteen, Paul Simon, Art Garfunkel, Mick Jagger, James Taylor, Jerry Lee Lewis, Billy Joel, Metallica, Sting, Jeff Beck and Crosby, Stills & Nash were among the top artists performing.
"It was a true Who's Who of rock 'n roll combined with a Who's Who of technicians in special-event TV," said Brad Hafer, VP of sales/design at Atomic Lighting, Lititz, PA. "I think it was the first time that the Garden saw that much talent in a two-day period."
Atomic Lighting reteamed with lighting designer Allan Branton for the two-night event. In April they partnered on the 24th Annual Rock and Roll Hall of Fame Induction Ceremony at the Cleveland Convention Center's Public Hall. Preproduction for the 25th Anniversary Concert required extensive logistics to juggle the Garden's New York Rangers NHL hockey schedule.
"Most of TV's top gaffers worked as one to get the job done," Hafer says. "We had a 10-hour Saturday to pre-rig the motors and truss not covering the ice, then came back at 1 a.m. Tuesday to jam things through until rehearsals Wednesday and the actual shows on Thursday and Friday."
Branton chose 90 Coemar Infinity XLs to wash the audience and the performers who played on a turntable stage built on the Garden's covered ice rink. "The stage rotated to introduce the next band and keep the show dynamic," Hafer said. "It was the only way to pack that many performances into a two-night show."
Hafer said Infinity XLs are Branton's "anchor wash lights" for big events, noting that Branton opted for a dozen Infinity ACLs as "eye candy" creating aerial arrays with colors and beam effects. The fixtures were mounted under I-Mag screens and up in audience seating. "The effects lights added another dynamic to the rig," Hafer said. "The ACLs are really unique: They draw just 300 watts of power but have the output of 2K fixtures to the eye."
Pete's Big TVs was on hand to supply the video screens for the event. The set, designed by Anne Brahic, featured a 16-foot-by-80-foot curved LED screen that showed video clips prior to each of the major segments each night. The screen then flew up to reveal the stage and to provide I-Mag support. The screen was comprised of 18.75mm GLux mesh panels, which allowed for a semi-transparent screen that was light in weight and capable of being formed into a curved shape.
In addition to the LED screen, there was also a 15-foot-by-55-foot rear projection screen upstage that also flew in and out for the various acts. A custom screen by Da-Lite was made for the set. Six Barco SLM projectors were stacked and edge-blended for this screen. The concerts were presented on HBO starting November 29.
Pete's Big TVs has served as the video screen support company for the Hall of Fame Induction ceremonies for the last 20 years.
For more information, please visit www.atomiclighting.tv , www.coemar.com and www.petesbigtvs.com.
Leave a Comment: