Saddleback Church Refines HD Video System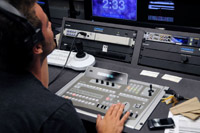 LAKE FOREST, CA — Saddleback Church recently purchased two For-A HVS-500HS switchers through CCI Solutions for an HD video system used for The Refinery Project, an auxiliary facility used for youth programs and worship services. The new gear will give the church the ability to switch an HD/SDI 1080 signal on a budget. "Our new facility is designed to bring together the youth of our community in a new and exciting way," said Greg Baker, the church's technical director. "We see them as our future and were willing to invest well for them. However, as with any facility, there is a financial reality to be considered when purchasing equipment. With our selection of the For-A HVS-500 switchers, we were able to satisfy both needs."
The Refinery Project, which has a 700-seat auditorium where high school seniors and college students attend services and a 600-seat gym for those in lower grades, also provides a digital audio and lighting system for worship services and other activities. The HVS-500HS is a self-contained switcher that accepts analog and digital HD and SD formats, with no external conversion required.
One of the switcher's innovations is its variety of input/output interfaces, including SD-SDI, HD-SDI, Analog Component SD and Analog Component HD, according to For-A. It can also connect to HDV cameras or PCs using component video break-out cables. The For-A HVS-500HS can be quickly installed and integrated.
Saddleback Church also added a number of JVC GY-HD250U cameras, RTS Intercom, Avitech multi-window processors, Bittree audio and video patchbays and Middle Atlantic racks.
For more information, please visit www.for-a.com.
Leave a Comment: