San Ramon Valley Bible Church Equipped with Robe CitySource 96 Fixtures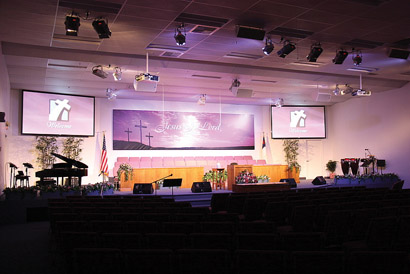 SAN RAMON, CA – When Zamar Media Solutions from San Jose, California was asked to propose a new LED lighting scheme for San Ramon Valley Bible Church, they chose Robe CitySource 96 fixtures. The Church has a busy schedule of services and events, and Zamar understood that the main requirement was to cover the stage area seamlessly with warm light that would render natural skin tones for both cameras and live viewing audiences.
Zamar's Josh Kimmich created the lighting design. It's the first time the company has used the CitySource 96 fixture, which was launched at the end of 2009, but Zamar has worked with Robe fixtures – primarily moving lights – on numerous other House of Worship installations.
"LED is just starting to gain popularity with our church clients," said Zamar president Michael Dow, adding that the installation at San Ramon Valley Bible Church is probably one of the first all-LED lighting rigs in a church in the San Francisco Bay Area.
The client specifically requested that LED units be used for their energy-saving properties and environmental friendliness. The CitySource 96 fixtures were also chosen for the quantity and quality of light output, homogenized light source, and ability to mimic tungsten light fixtures.
Housed in a compact, IP65 rated aluminum casting, the CitySource 96 They are hung from the ceiling of the venue above the stage, and are now in use every week.
Control is via DMX/RDM, allowing for advanced programming options. In this case, the fixtures are controlled by an ETC SmartFade, and new processing electronics help ensure that a stable white balance is achieved. The fixtures' Rebel LEDs also has a life expectancy of 60,000 hours.
For more information, please visit www.robe.cz.
Leave a Comment: