Sapsis Rigging Assists with Fundraisers at The Met, Mt. Sinai Hospital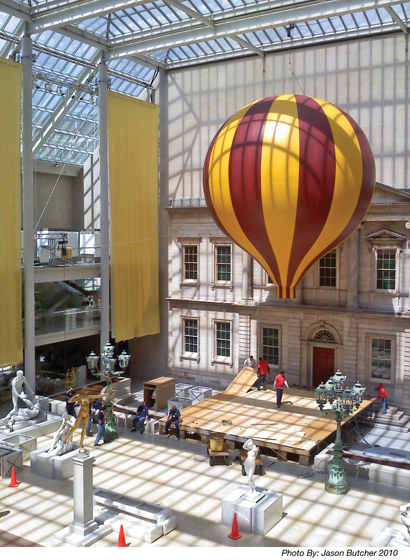 NEW YORK – Sapsis Rigging provided rigging design, equipment and installation for all lighting and sound elements as well as two 30-foot-diameter "cold air" balloons for the Metropolitan Museum of Art's annual Costume Institute Ball. The balloons were set up in the Grand Lobby and American Wing. Sapsis also assisted with rigging design, equipment and installation for a benefit at the Met in honor of the artist Christo's late wife, Jeanne-Claude, who passed away in November. Christo and Jeanne-Claude, born on the same day in 1935, collaborated on several large-scale temporary art installations, including The Gates in New York's Central Park.
While all this was going on at The Met, Sapsis Rigging was called upon to assist with another fundraiser 20 blocks north – Mt. Sinai Hospital's 23rd annual Crystal Ball – for the 23rd year in a row.
For more information, please visit www.sapsis-rigging.com.
Costume Institute Ball photo by Jason Butscher.
Crystal Ball photo by Adam Shulman, SIA Acoustics
Leave a Comment: