Sapsis Rigging Projects Highlight Creativity, Flexibility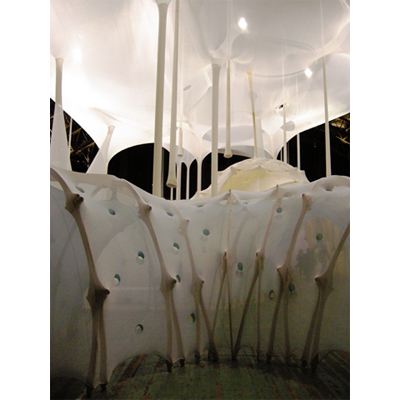 NEW YORK — Anyone who thinks that rigging companies might be burdened with dull routine need look no further than two recent projects faced by Sapsis Rigging for evidence to the contrary. The company provided rigging design, equipment and installation supervision and labor for the artist Ernesto Neto's first commissioned art installation at the New York Park Avenue Armory, pictured here, and responded to H1N1 virus concerns with a change of venue for the 23rd Annual Mt. Sinai Crystal Ball with only a day and a half notice before the scheduled load-in for the hospital's biggest fundraiser.
The latter event was hastily switched from the New York hospital's lobby to a tent in Central Park for fear of an elevated risk to hospital patients from the swine flu virus. Mike Sapsis, project manager for the event, noted that "the problems we faced in moving to a different venue were compounded by the fact that we were no longer in a building but now in a tent.
"Not only did we have further to go to get the gear into the tent but also the allowable loads in the tent are very different from those in the building," Sapsis continued. "And the suspension methods are also very different from one structure to the other. We re-designed the system on the fly, shifted equipment around as best as possible, added a couple of ground support systems and were good to go in time for the event."
For Ernesto Neto's monumental art installation, Sapsis Rigging helped the Brazilian artist fulfill his vision of filling a large space within the Armory with columns of fabric, each weighted with spices and sand, which descend 60 feet and interact with other fabric to create an immersive environment for exhibition attendees. The soft sculpted, scented forms define a maze of rooms and passageways in a three-dimensional space spanning 180 feet in length and 120 feet in width.
The primary load in took two days, noted Sapsis. "Because the hanging points would greatly affect the shape of the fabric, we worked closely with Ernesto to make sure the points were located in the roof steel properly. Once he was satisfied with the point location we ran the fabric through the points and started shaping the fabric with the scented columns."
The fine tuning took another two days with Sapsis Rigging's Daryll John taking the lead to make sure the artwork was safe and secure.
For more information, please visit www.sapsis-rigging.com.
Leave a Comment: