Scharff Weisberg Helps Take Fashion Line Into the Future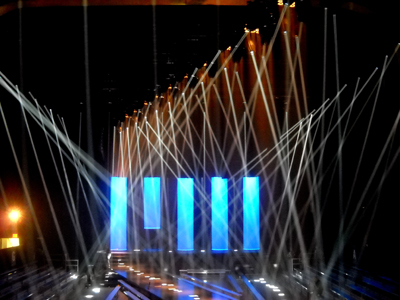 NEW YORK — It won't be that long before Dutch apparel manufacturer G-Star Raw's 2010 spring and summer fashions are being worn by its customers. But for the company's recent showing at the recent New York Fashion Week, Scharff Weisberg helped project a look that went much farther into the future. G-Star's urban-industrial chic aesthetic was reflected in the venue's simple set where models emerged to walk the runways from slim cylinders, which have been compared to teleportation devices. The tubes were bathed in blue light while spots crisscrossed the high-ceilinged space to illuminate the stage, runways and guest seating.
Scharff Weisberg, which partnered with event production company Dizon Inc. on the show at the Hammerstein Ballroom, provided an array of lights plus a complement of ADB Svoboda HT 2500s, a high-intensity 10-lamp batten, which delivers a light curtain with a soft yet intense look for a scenic statement.
"We're pleased that once again Dizon chose us for G-Star's always innovative show," said Scharff Weisberg Lighting VP Chris McMeen. "Our ability to support their unique take and meticulous requirements is what keeps the client coming back to us year after year."
For more information, please visit www.scharffweisberg.com.
Leave a Comment: