Scharff Weisberg Lights USGA Learning Tents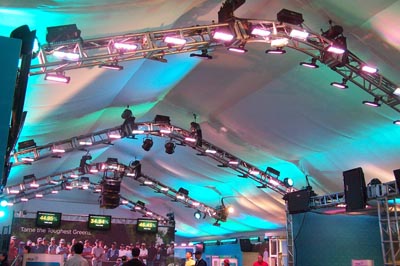 NEW YORK — Scharff Weisberg lit "Learning Tents" for two professional golf events this summer, working on behalf of Momentum Worldwide. The events were the US Open 2009 in Farmingdale, N.Y. and the 91st PGA Championship in Chaska, Minn., where a second hospitality tent for corporate VIPs was added. Scharff Weisberg supplied all the lighting and A/V equipment for the venues. At the US Open, the USGA Championship Experience Learning Tent gave the public a chance to learn more about the history of the game and test their own skills. The tent featured a rules-of-golf kiosk, practice greens, a chipping area, video swing analysis, a closest-to-the-hole golf simulator contest and the opportunity to get a two-for-one golf lesson with a local pro.
"At the US Open we asked Scharff Weisberg to do a number of things at the same time," said Shani Friedman, senior producer with Momentum Worldwide. "They had to provide general lighting for the entire 6,000-square-foot space, highlight museum cases containing displays such as historical putters, and light the chipping bays without distracting the participants. We also needed a lighting scheme that changed subtly each time someone walked in."
A third requirement was for the lighting to be as "green" as possible. "Scharff Weisberg came through with an almost full LED rig that consumed less power than a conventional rig and could also change colors," Friedman said. "The LEDs were very flexible and enabled us to draw a fraction of the power compared to last year."
Scharff Weisberg supplied a low-wattage lighting system featuring Color Kinetics Color Blast 12-inch LED fixtures, Color Kinetics 72-inch Color Blaze fixtures, and Altman CDM 150W PAR fixtures, each of which boasts an output similar to a 1000W fixture. Scharff Weisberg's Erik Perry, who programmed the lighting, used a High End Systems Hog 1000 console for lighting control and ETC and LEX products for dimming and power distribution.
"The project required extensive coordination and pre-production to ensure that we could achieve the client's vision within the time and budget allotted," said Perry, who's also Scharff Weisberg's director of lighting services. "Thanks to early planning, we were able to create and deliver the low-power lighting system we promised the USGA. The look and feel in the tent was 100 percent different from any of their previous events and everyone was extremely happy with the end result."
Scharff Weisberg's Chris McMeen, John Healy, Drew DeCorleto and Mike Gottke were assisted by IATSE locals in setting up the lighting system. Scharff Weisberg's Mike Alboher and Guy Bostian furnished the tent's audio/video system, which featured a Barco FLM-HD18 projector and switching gear. John Knebel, Lee Tate and Steve Brallier of 1220 Exhibits built all the museum quality exhibits and tent set pieces.
At the PGA Championship Scharff Weisberg recreated the Learning Tent and lit an additional venue: the hospitality tent for corporate VIPs which acted as "an oasis in the middle of the course where guests could come in out of the rain or heat, enjoy some refreshments and watch live play," Friedman says. "We wanted the club to feel loungy and relaxing. It was key that people enjoy the space without noticing the lighting; the only notice they took of it was positive."
For both of the PGA tents Scharff Weisberg provided another batch of eco-friendly lighting, including Color Kinetics Color Blast 12-inch LEDs, Color Kinetics Color Blaze 72-inch LEDS, Elation Impression LED fixtures, ARRI 300 fresnels and Altman CDM 150W PAR fixtures.
"In our business, we expect last minute requests — it's simply par for the course," Friedman said. "Scharff Weisberg's ability to roll with the punches and be flexible allowed them to meet every client demand at the US Open and PGA Championship. That kind of attitude makes a big difference to the success of events like these."
For more information, please visit www.scharffweisberg.com.
Leave a Comment: