Scharff Weisberg, Scott Wolfeil Light TV's "Thin Ice"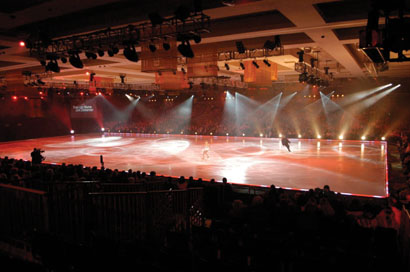 NEW YORK – Lighting designer Scott Wolfeil of LDG (Lighting Design Group) used gear supplied by Scharff Weisberg for Thin Ice, which was broadcast live on ABC from the Premier Ballroom of the MGM Grand at Foxwoods in Mashantucket, Conn. Olympic gold medalists Dick Button, Kristi Yamaguchi and Katarina Witt served as judges for the competition, which paired skaters in five teams.
LDG senior project manager David Marcucci teamed with Scharff Weisberg project manager Jeff Benish to assemble the lighting rig, which included fixtures from the house inventory of the MGM Grand at Foxwoods.
"Having a nationally-broadcast ice skating competition staged in a ballroom provided plenty of technical challenges, particularly the rigging and trim heights," said Marcucci. "The challenge was to get a quality lighting angle that would make the talent look great without being in the way of the audience or the cameras."
Marcucci noted that the lighting package included both low-tech and high-tech instruments. Ninety Color Kinetics iColor Accent LED Tubes lined the ice and two High End Showgun kits that marked the skaters' entrances, and PAR Bars and a large array of Mole Fays were used for room and audience lighting.
Scharff Weisberg also supplied and automated lighting package that included Vari*Lite 2500 wash and 2500 spots plus more than 60 Source Four ellipsoidal spots and numerous Kino Flo light banks and Diva lights.
Three Robert Juliat Ivanhoe and three Aramis HMI long-throw followspots lit the skaters on the ice, along with three and additional medium/long-throw Ivanhoe and Cyrano followspots. The crew also used hazers and foggers for special effects.
A grandMA console and backup unit from Scharff Weisberg provided lighting control. The Scharff Weisberg also furnished full truss and rigging for the show as well as expendables. Laura Franks was the programmer on the job.
Marcucci credited Wolfeil for "a great job keeping the important design elements while allowing substitutions to be made that would help us maintain the budget.
"Our gaffer, Ronnie Skopac, made important contributions that enabled us to load in the show within the tight timeframe that was given to us," Marcucci added.
For more information, please visit www.scharffweisberg.com.
Leave a Comment: