SF Opera & Ballet Add Robert Juliat Victor Motorized Followspots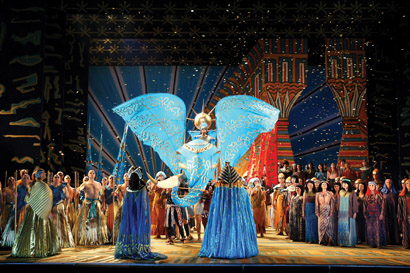 SAN FRANCISCO – The San Francisco Opera and Ballet, no stranger to Robert Juliat gear, has become the first U.S. venue equipped with Robert Juliat's motorized Victor followspots with RJNET electronics. "When the Opera was remodeled and seismically upgraded in 1996, we purchased 172 Profiles, then the Opera bought a few HMI Profiles and the Ballet added two more. The Victor followspots are our most recent purchase," said Jim Caudle, technician for the San Francisco Ballet. "The building is shared by both companies which have consecutive seasons: the Opera runs May through December and the Ballet December through May. There are permanent followspot positions for both companies and the Victors remain in place for both seasons."
Caudle noted that the Opera and Ballet's previous followspots "didn't have the punch of the Victors and were a little unbalanced. The dousers also gave us problems and wouldn't run smoothly. But everything in the Victors is smooth, clean, balanced and precise. We love them. I particularly like having the DMX controls on the douser. And Robert Juliat optics are the best we've ever used: very flat fields and very even."
Jim Schelstrate with Holzmueller Productions, which handled the sale, noted that "it was the output of the Victors that blew away what the Ballet had used previously. It was the perfect unit for what they needed – the quality of light was key and the intensity was great. They really liked it."
During the commissioning of the spots, an issue was discovered with the RJNET. The technical staff stated that Robert Juliat provided exceptional support during the process of diagnosing and correcting the problem and took every measure possible to ensure that the Opera and Ballet performances were never interrupted or compromised. They even supplied a complete spare followspot to keep on hand and sent a technician to San Francisco to upgrade the systems.
"The Juliat people were excellent and very proactive about getting things worked out," said Schelstrate. "As a dealer, we're only as successful as the manufacturers we work with, and we were very pleased with Juliat's support in resolving the RJNET issue. They even backed us up by providing other units and maintaining the comfort level for the Opera and Ballet. There are always issues with equipment, but it's how a company stands behind the product that we care about."
Jay Chew, technician with the San Francisco Opera, added that "other than that one issue, the Victors have worked just fine – we like the quality of light that comes out of them. We're running our summer season with the Victors and they've been real workhorses – we use them every day, 12 hours a day. The guys are very happy with them."
Leon Parsons serves as master electrician at the Opera and Kelly Corter as master electrician at the Ballet.
For more information, please visit www.robertjuliatamerica.com.
Leave a Comment: