Silpada National Conference Lighting Controlled by Jands Vista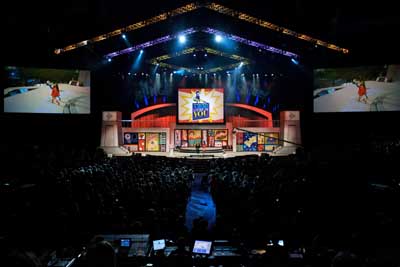 KANSAS CITY, MO — LD Dave Boser of Image Technologies Corp. chose a pair of Jands Vista I3 consoles to provide lighting control for the Silpada Designs 2009 National Convention. With over 28,000 independent representatives, Silpada is one of the largest sterling silver jewelry home party companies. This year's three-day annual conference at the Kansas City Convention Center attracted nearly 6,000 sales reps and featured presentations, an awards night and an entertainment night.
The live event was produced by Doug Flory and production-managed by Bob Casey, with technical direction by Mark Scanlon. Lighting design / direction / programming was by Boser, and master electricians Nick Wisdom and Michelle Morin assisted with the rig install and strike. Image Technologies Corp. provided all lighting and rigging equipment for the event.
When Boser first saw the Vista console, he was impressed with its timeline-based editing and the feature set on the mid-range Vista I3, and felt it was well-suited to Image Technologies Corp.'s need for an all-in-one solution. The company invested in four Vista I3 consoles along with Wacom Cintiq 21-inch pen-tablet screens.
"The Vista is my first choice every time, it's on everything I do since we bought them," Boser said. "The I3 is a fantastic value. I could buy a pair for not much more than a full size Vista T2 console. I like that it's a closed system with an onboard computer (as opposed to the S3) and using it with the 21-inch Wacom tablet provides so much workspace."
Having used the Jands Vista on all of his shows in 2009, Boser was confident that the console would prove a good fit with the Silpada rig, which incorporated over 250 LED fixtures, moving lights, conventional fixtures and 150 channels of dimming.
The multi-purpose rig consisted of overall stage lighting for I-Mag and scenic lighting for different staging configurations each day, with truss toning lit in the Silpada logo's corporate colors and general house lighting illumination of the arena.

With no time to pre-program the event lighting and only a day's rehearsal time, the Vista's interface gave Boser quick access to his rig. The console's timeline editing also proved to be a time-saving feature.
Longtime Vista user Nick Wisdom also oversaw the programming and installation of a second Vista I3 console in the party room, a separate invite-only event for Silpada's top sales representatives.
The Vista I3 is a mid-range lighting desk that provides all the features of the full-size Vista T4 / T2 consoles in a smaller, lower-cost package.
For more information, please visit www.jandsvista.com.
Leave a Comment: