Strong SkyTrackers Seen Outside Stadium During BCS National Championship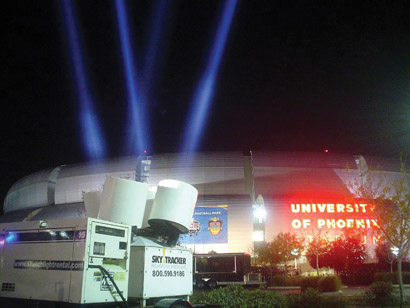 GLENDALE, AZ – ESPN, the broadcaster of the 2011 BCS National Championship collegiate football game, chose SkyTracker gear to decorate the night sky outside the University of Phoenix Stadium. Three four-beam SkyTracker Searchlight systems provided eye-candy to television viewers and attendees at the event as the Auburn Tigers edged the Oregon Ducks in a 22-19 victory.
SkyTracker of Arizona provided the units, made by Strong Entertainment Lighting. They feature bent shaft technology, are built in the U.S., and were each over 15 years old, a testament to their reliability.
For more information, please visit www.strong-lighting.com.
Leave a Comment: