Tackling the Challenge of Building a Stadium on the Beach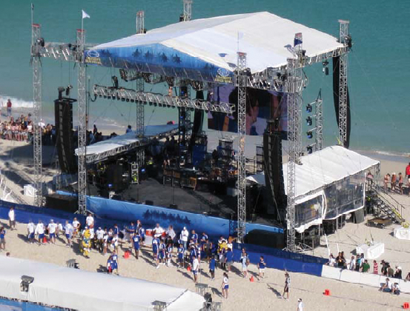 MIAMI – For the 2010 Super Bowl Week festivities on South Beach, Florida, Direct TV hosted the 4th Annual Celebrity Beach Bowl, and Light Action Productions, with support from sister companies Applied Electronics and Staging Dimensions, tackled the challenge of building a stadium on the beach. Working with Jack Murphy Productions, the site was mapped out for television and live production needs. The structures were designed mostly with off‐the‐shelf parts, but a few things were created to meet custom design concepts for the event, which included a flag football game on the sand, trophy presentation and a concert afterward.
Components included a 180-foot, two‐story VIP structure, complete with catering areas, sound system, and plasma displays. A 40-foot-by-40-foot roof and main stage system were created directly on the waterfront for the post-show concert featuring the All American Rejects. And for television, an 8-foot-by-12-foot announcer position was created and completely covered in sand.
For more information, please visit www.stagingdimensionsinc.com
Leave a Comment: