Texas Church Blends Traditional Worship, Modern Lighting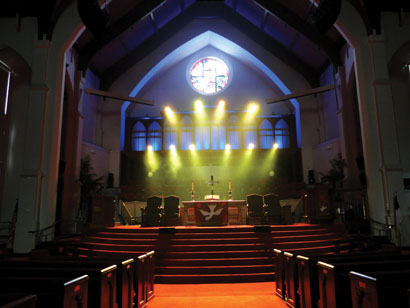 SOUTHLAKE, TX – Whites Chapel United Methodist Church (WCUMC) has invested in a new Jands Vista T2 lighting console and GLP LED fixtures to enhance the traditional services in its main sanctuary. WCUMC's main sanctuary is a multi-purpose venue hosting services, concerts, conferences, weddings, funerals and other special events. There's also a smaller venue used for contemporary and youth worship.
In recent years, WCUMC upgraded the lighting in the smaller worship venue using a Jands Vista T2 control console and moving heads.
"The lighting in this venue really accentuated the mood of our services," recalled Tim Georgeff, director of creative arts at WCUMC, citing "moving light shows to complement our worship" and the ability to "highlight special moments, spaces and timing" during the services.
Positive feedback from the smaller space led the church to think of updating the conventional PAR cans and older lighting console used for the larger sanctuary as well.
Along with the Vista T2 used for the smaller space, the church had rented another Vista T2 desk for big events in the main sanctuary, so Georgeff was comfortable for desk to set up permanent residence in the main space.
In terms of new automated fixtures for the main sanctuary, WCUMC chose GLP Volkslicht fixtures, each with 60 Rebel LEDs, for their energy efficiency, compact dimensions and full palette of colors, from strong saturates to subtle pastels.
Georgeff noted that the GLP fixtures can light the choir loft, organ chamber and provide backlighting for the chancel and stage areas during services, along with lighting effects that move through the congregation "on occasions that call for those moves."
The upgraded lighting system includes GLP Volkslicht fixtures, Chroma-Q Color Block multi-purpose LED fixtures and High End Systems Cyberlights. The church still rents additional moving lights, LEDs and hazers for larger events.
WCUMC uses the Vista console, which is patched into the sanctuary's house lights system, to also control the architectural and worship lighting. The consoles are programmed and operated by paid staff members and volunteers.
"Our congregation is really enjoying what we call our 'ancient future' look: a traditional sanctuary enhanced with intelligent LED lighting," concluded Georgeff.
A.C. Lighting Inc. supplied the Vista T2s and the upgraded system's various fixtures.
For more information, e-mail m.ravenhill [at] glp.de.
Leave a Comment: