The Glacier Garden Museum Exhibit Uses Medialon for Control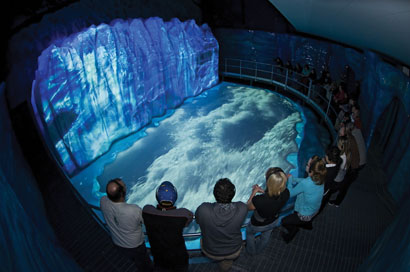 BAIE-COMEAU, Quebec – The Glacier Garden, an indoor/outdoor museum, lets visitors travel back in time to the Ice Age and learn about the impact of climate change on animal migration. XYZ Cultural Technology, a Canadian integrator and AV designer company, chose Medialon as the main controller of the indoor part of the museum. Visitors start their journey of discovery by entering the Glacier Exploration Station where audio, video, lighting and multimedia transport them to a virtual world.
One Medialon Manager V5 Pro license controls four different timeline shows where several tasks run simultaneously in the Glacier Exploration Station.
Using Medialon Manager Panel design software, XYZ Cultural Technology was able to create touch panel interfaces to be used on Red Lion touch screens. The museum's staff can use the touch screens to start and stop shows, check on the time status for each show, launch test sequences and more.
During their journey, visitors enter in a virtual "elevator" which takes them down 4,000 feet in the middle of a glacier, where water streams cut and groove the ice. Medialon controls a rotating stage via a PLC that simulates the elevator.
Once "under" the glacier, visitors are surrounded by an immersive video projection sound and lighting effects, all managed and synchronized by Medialon.
The show continues with video projected on a large water screen where visitors can watch sea levels rise as glaciers from 8,000 years ago melt. They learn about the formation of the Ancient Seas and get a look at the environmental impact of today's changing climate. Through it all, visitors are surrounded of special effects including mist, smoke, lighting, sound and video effects.
Medialon is in charge of controlling the Dataton Watchout system used for the video projections. After the virtual journey ends, visitors can access to the Cyber Center, a multimedia experience and research room where they can further investigate subjects developed in the Glacier Exploration Station.
This computer room is made up of 10 interactive work stations with educating content. LCD screens have been installed on top of each work station and allow observers to follow each participant's actions and navigation. Thanks to a Medialon Manager Panel, the laboratory manager can remotely select the info to be displayed on the screens via a video matrix and create true interactivity with the visitors.
XYZ Cultural Technology has also been in charge of the A/V integration of a multipurpose room built in "The Glacier Garden" indoor part of the museum.
During regular operation, the multipurpose room is a cinema room displaying uninterrupted programming of short and feature-length films, documentaries, and press reports in the field of glaciers, climate changes, etc.
For special events, the multipurpose room turns into a conference and/or a video conference room.
A Medialon Manager Panel has been installed in the control room of the multipurpose room. It allows the staff to control the sound, video projection as well as lightings of this room. As it can also be rented for private sessions, another Medialon Panel in "Event" mode has been designed as well by XYZ. It allows clients to easily manage and synchronize their own music, videos, lighting effects, etc.
In order to give efficient technical assistance to the museum, XYZ has especially designed a "Maintenance" mode which gives access to each device controlled by Medialon Manager V5 via the Internet.
The Medialon Manager system also controls the following equipment in the museum:
– 12 video projectors (5K to 10K)
– 11 Dataton Watchout players
– 1 Senheizzer GuidePORT audio system (200 receivers and 9 antennas)
– 3 Space Bose DSP control audio matrix
– 1 Alcorn McBride multi-track player
– 2 Biamp DSP Mic-Line audio matrix
– 11 Blu-ray players
– 5 Red Lion touch screens
– 1 video matrix
"The Garden of the Glaciers project was complex and in the meantime it had to be easy to use for the museum's staff," said Audrey Gilbert, project coordinator from XYZ Cultural Technology.
"We chose Medialon because it perfectly fitted the museum's needs. It allowed us to control and monitor all the A/V devices installed in each room of the museum through one single interface. It is a truly reliable control system," concluded Audrey Gilbert.
For further information, please visit www.xyz-tc.com and www.medialon.com.
Leave a Comment: