Three Elton John/Leon Russell Performances in Two Days Lit by Tom Kenny, Scharff Weisberg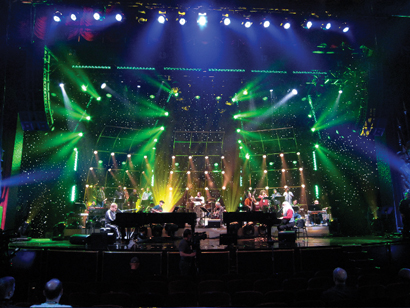 NEW YORK – Three recent performances by Elton John and Leon Russell got visual support from LD Tom Kenny, who used gear provided by Scharff Weisberg Lighting. The live appearances supported the recent release of The Union, a collaboration between the two artists. The three events began when Elton John and Leon Russell paired up for a live concert broadcast live from The Beacon Theatre on October 19. It continued with an appearance on Good Morning America the following day, then returned to the Beacon Theatre that night for a T Bone Burnett-curated concert benefit for arts education, The Speaking Clock Revue.
Scharff Weisberg Lighting responded quickly to Kenny's requirements with a wide array of equipment for three different gigs. The newly-renovated Beacon Theatre posed a particular challenge being a tight fit for large lighting rigs, especially those that needed to accommodate a live broadcast and benefit concert.
"Scharff Weisberg was fabulous, as always. We asked a lot, and they looked after us very well delivering a lot of equipment and cabling within a short space of time," Kenny noted.
Elton and Leon kicked off their stay in the Big Apple with Fuse, Madison Square Garden's national music television network, airing their Beacon Theatre concert as part of the Fuse Presents series. Produced by T Bone Burnett, the concert launched the duo's Union tour.
"I worked with Elton's LD Andrew Piggott and programmer Mike Appel to adapt the Beacon concert for television," Kenny said. "The Beacon required a massive lighting rig in a small space – it's a tight Broadway stage, and we had a star-studded band and a star-studded audience. But after a couple of days of really hard work the end result was fabulous and everyone loved it."
The Scharff Weisberg moving light rig included new Martin MAC 101 LED washes – ultra-compact, lightweight LED fixtures that Kenny helped introduce to the world at the 2010 MTV Video Music Awards.
Other automated fixtures provided included Coemar Infinity Wash XLs, Vari*Lite 500 TD Washes, VL3000 Spots, VL3500 Framing Spots and VL3500 Washes.
Other LED fixtures included Color Kinetics ColorBlaze 48-inch kits and seven ColorBlaze 72-inch kits plus ColorBlasts.
The rig also featured a variety of Source Four Ellipsoidal spots and PARs, four-light Mole Fay kits, ARRI 650 Fresnels, Chimeras, a pair of ARRI HMI Pocket PAR 200s and Litepanel 1×1 standard tungsten floods and daylight floods. Scharff Weisberg also furnished a full grandMA and back up for lighting control.
The Good Morning, America broadcast required less extensive lighting, and Kenny was also able to scale back the first night's rig with a modified version of the Scharff Weisberg setup for The Speaking Clock Revue, which also featured Elvis Costello and John Mellencamp.
"We were able to do some proper theatrical lighting for the Revue to lots of great critical acclaim," Kenny noted. "We had to tweak everything else for television. So the Revue came as a nice relief after lighting for TV and film for four days."
Star Kahn served as the set designer.
For more information, please visit www.scharffweisberg.com.
Leave a Comment: