Tinc Design & Productions Lights Band of Outsiders at NY Fashion Week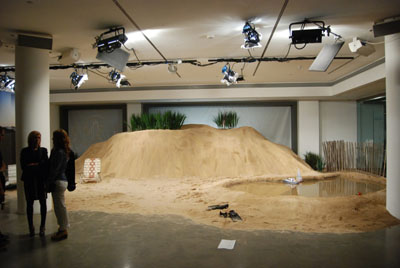 NEW YORK — There may have been five tons of sand covering the concrete floor and radio-controlled boats plying a miniature ocean set up in the loft gallery at Milk Studios, but for LD Seth Bernstein, figuring out how to light the launch of designer Scott Sternberg's Band of Outsiders fashions with a Malibu theme wasn't exactly a day at the beach. The event reunited Bernstein with Ryan Kirk, production manager at Tinc Design & Productions, which furnished lighting, rigging, hair and makeup services for the presentation-style (non-runway) show. Bernstein and Kirk had previously worked together on the Band of Outsiders fall collection presented during Fashion Week last March.
Bernstein approached the show like a photo shoot, designing lighting that created contrast and appealed to cameras by illuminating set pieces and implementing a more sculptural light on the models.
He noted that "the big challenge was getting all the thematic influences to have a physical presence in the space. Using projection for the beach set was not feasible based on the space, so the scenic designer, Jared Lawton, and I considered shooting and printing a large-scale, matte mural on canvas instead. That turned out to be a very affordable solution."
It was "critical," however, that the mural "not look like a backdrop but a physical part of the set. We didn't want shadows on the mural. The solution was to use shadow-free soft lights, which is unusual for fashion."
Coming from a film and television background, however, Bernstein was able to strike the right balance between shadow management and keylighting. And Tinc's rental house connections enabled Kirk to source a complement of soft lights for Bernstein.
"The soft fill really lit the backdrop well," Bernstein said. "But we anticipated that there would be no highlights or definition because of the diffuse, even light coming from the softlights. As a result we would lose a lot of texture in the clothes, and that's a critical part of fashion presentations. So we added a key light, just like on a film set. Ryan sourced a system of ARRI fresnels pointing left to right which added texture to the clothing, made it appear that the sun was coming in from a certain angle, and gave a unity to the whole picture. It was a case of turning lemons into lemonade."
"Using mostly ARRIs and soft lights rather than lekos for most of the show produced photographer-friendly lighting" ideal for the press in attendance, Kirk noted. "It was very important that the photography turned out well. I liked the quality of light those fixtures gave the models. It was all about creating sculptural light for them."
From a technical standpoint, Tinc was also challenged by what Kirk outlined as "the realities of the venue. We wanted to get the lights as high as possible to get the best angles. So instead of using pipe or truss we utilized Unistrut, a construction material not designed for lighting applications, which allowed us to position lights all the way up at the ceiling. 4 Wall was very helpful in sourcing it for us."
Bernstein also credited Tinc for helping him create "the sort of lighting that was very complex but that the public didn't notice — and that was a good thing. On the surface it looked very simple, but there were a ton of challenges involved and one mistake would have been a disaster." Only the photographers recognized what Bernstein and Tinc had been up against. "When they didn't want to use their flashes, we knew it was a success," the designer said.
"We knew Tinc would supply the people and the resources to make sure everything was done right and nothing in the space was damaged," Bernstein said.
"The beach set gave a really unique feel to the fashion show," Kirk added. After all the prep work had been done, "it was more fun than almost any other show I've worked on. And it was great to have the opportunity to work with Seth again."
The experience was also a rewarding one for Bernstein. "The first year I moved to New York I was an electrician at Milk," Bernstein recalled. "It was great to be back as a designer. I knew Tinc would make me look good."
At Tinc, Melissa Johnston was production electrician and Sarah Arnold assistant production electrician. The electricians were Zoe Huertas, Lance Darcy, Adrian Kozlow, Hondo Weiss-Richmond, Kevin Johnson and Regan Dodson.
For more information, please visit www.tincproductions.com.
Leave a Comment: