Ultra Music Festival 2009 Lit with MAC III Profiles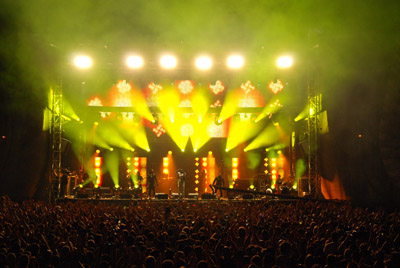 MIAMI — The 11th edition of Miami's Ultra Music Festival, staged on the waterfront at Bicentennial Park, attracted 70,000 revelers to hear Tiësto, Black Eyed Peas, The Prodigy, Paul Van Dyk, Bloc Party and other acts. Stephen Lieberman, president of SJ Lighting, Inc., was lighting director and stage designer for the multi-stage event, and took the opportunity this year to put Martin's MAC III Profile through its paces at the festival for the first time.
"Felix Lighting was my vendor for the main stage and they had recently purchased 32 MAC III Profile units," Lieberman said. "I was very interested in using this fixture because of the output and advanced features — focus tracking, and great aerial gobos were perfect for this environment."
The MAC III Profiles were the primary profile fixture used on the main stage with fixtures mounted across three flown trusses as well as several units placed on the deck. Also lighting the main stage were 38 Atomic 3000 strobes, while MAC 700 Profiles and MAC 700 Washes were used on Stage 2 and MAC 250 Entours on Stage 5.
"The equipment held up extremely well in a harsh environment, getting worked pretty hard to electronic music all night long," Lieberman said.
Ray Steinman served as production manager, and Lieberman also credited his crew, Felix Lighting, Paradigm Lighting, PRG, Lasernet and Large Screen Video for doing "a phenomenal job getting it done."
Photo by John Catignas
For more information, please visit www.martin.com

Leave a Comment: