Usher's OMG Tour Travels with Clay Paky Alpha Wash 700s, grandMA2 Consoles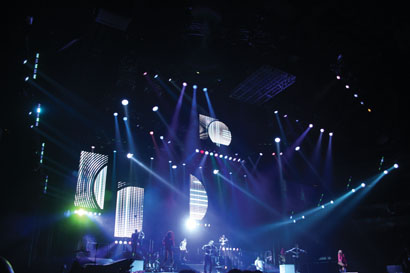 LOS ANGELES – For Usher's OMG Tour, the artist's first big-budget spectacle since 2004, LD Peter Morse and associate LD Eric Wade are using 24 Clay Paky Alpha Wash 700 fixtures – most arranged on the floor, but others rigged along the fly truss – with a grandMA2 console for control. Of the Alpha Wash 700s, Wade had used them to light Alicia Keyes, "so I told Peter about them," he said. "The 700s deliver all those beam effects and everything you need to get that extra layer that really punches through.
"We had to design around a lot of fly gags and moving set pieces," added Wade, who heads up FOHShow, a lighting- services company. "The rig is designed to look big but not be completely massive; it's large but not over the top. It fills two trucks and features between 160-200 fixtures."
Wade also credited the flexibility and networking capabilities of the grandMA2. "You can pretty much program it however you're comfortable programming: Nothing is set in stone. It does everything the way I'm used to working but with lots more bells and whistles. And the networking is amazing; I had Benny Kirkham come out and help me program, and we worked simultaneously with him setting up his desk exactly the way he wanted while I did the same."
Bob Gordon, president and CEO of A.C.T Lighting, which distributes Clay Paky fixtures and grandMA desks in North America, noted that Gary Westcott is also using two grandMA Series 2 full-size desks to run the video portion of the show.
For more information, please visit www.claypaky.it, www.malighting.com and www.actlighting.com.
Leave a Comment: