UVLD Adds Glitz to Beard Gala Honoring Women in Food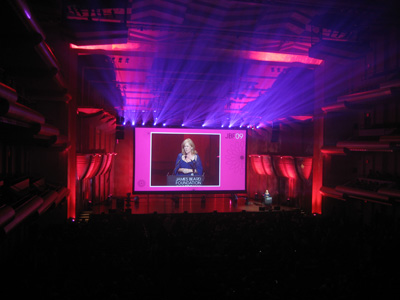 NEW YORK — The James Beard Foundation chose "Women in Food" as the theme for its annual awards ceremony, and Unlimited Visibility Lighting Design (UVLD) was asked to bring "the look of a polished modern awards show" to the venue, Lincoln Center's Avery Fisher Hall, according to UVLD lighting designer Gregory Cohen. Working with Scharff Weisberg, UVLD supplemented the in-house lighting package with a load-in that began only 12 hours before the 6 p.m. event. "We brought in a moving-light package to add animation and some glitz to the awards," Cohen said of the event, which drew 1,700 people and an all-female roster of 23 chefs, plus women with careers in mixology, winemaking, cheesemaking and other food producers who offered samples of their dishes at the venue.
"With such a high-profile affair there was a lot of pressure intrinsic to the event, yet working at Avery Fisher Hall was an absolute pleasure," Cohen added. The event was produced by David Bowen of Bowen and Company and Megan Reynolds of Extraordinary Event.
Arriving at 6 a.m., UVLD ran cable to power up tables in the VIP seating area. There was no set inside the room, just a 16-foot-by-9-foot screen, so UVLD decided to uplight and crosslight the venue's architecture to add interest. "We colored and textured the warm wood walls so the look became about the architecture of the room rather than about a cyc or scenic element," Cohen said.
Megan Reynolds chose technical director Marty Goldenberg of Marlyn Productions to manage the staging aspects of the event, who, in turn, brought in UVLD. "Working with Megan and Marty was a real treat," Cohen said. "The program itself is world class, and they were able to get the information and guidance we needed from the end client. We knew what they wanted going in, so there wasn't the traditional last-minute scramble before the doors open."
The awards were cohosted by Cat Cora, Emeril Lagasse and Stanley Tucci, who plays Julia Child's husband Paul in the new movie, Julie & Julia. Julia Child was a friend of James Beard and a founding member of the organization.
Sal Restuccia served as production electrician for UVLD, and Cameron Yeary was the programmer.
For more information, please visit www.uvld.com.
Leave a Comment: