UVLD, Altered Image Help Forest Labs Launch Savella for Fibromyalgia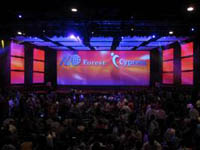 SAN DIEGO — Unlimited Visibility Lighting Design (UVLD) was chosen by longtime client Altered Image to provide the lighting design for an event they produced for Forest Laboratories, Inc. The gathering unveiled Savella, a new treatment option for the estimated six million Americans suffering from fibromyalgia. Forest Laboratories and Cypress Bioscience, Inc. received FDA approval for Savella in January. "On this project we were tasked with synthesizing the overall background of the show — the close ups as well as the wide shots and the textures on the sides of the set," said LD Greg Cohen. Set Designer Patrick Fahey, of Eight Hands High, devised a full stage backdrop that took video projection throughout the show. The content for these screens, as well as outboard LED panels, were provided by UVLD. LMG provided the complete HD video package, with the low-res elements provided by XL Video.
The show began with the reveal of a 45-piece orchestra, comprised of local symphony musicians, to play moving ballads with a singer and chorus that narrated the story of living with fibromyalgia.
The orchestra brought lighting challenges of its own. Steep front and side light was used to emulate what is often found in concert halls. It was important to provide illumination for the cameras, but it was also critical that the musicals could see the conductor. "Although artists will put up with a lot in a corporate event," notes Cohen, "it's hard to imagine musicians not complaining about a massive lighting rig in their eyes."
Gregory Hermanson of ShowTx, whose firm provided technical direction, brought the team together. The Altered Image team was led onsite by senior producer, Josh Ward and creative director, Paul Duffy. The UVLD team consisted of Paul Sharwell as lead programmer with Matt Webb programming the MBOXes. Cameron Yeary assisted in pre-production as the Visual Media Developer, handing integration with the LMG and XL Teams. Tom Blancato was the production electrician with Johnny Washam as his assistant. The lighting gear was provided by 4 Wall Entertainment.
"It was a great team of people," said Cohen. "We had some of the best in the industry on this show, which made the show an absolute pleasure. We were thrilled to be working with Altered Image again. It's a stressful time for everyone, to be sure, but when we can come together and do something unique, I think it's more memorable for us all."
"To collaborate with the open-minded team of Greg Cohen and UVLD makes our creative vision have even more impact," said Paul Duffy. "They are able to see and hear where things need to go and offer us an unlimited resource of creativity and sheer brilliance."
For more information, please visit www.uvld.com.
Leave a Comment: