UVLD Lights 2010 Auto Introduction in Chicago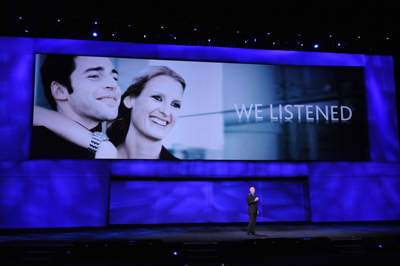 CHICAGO — Unlimited Visibility Lighting Design (UVLD), designer Andy Henry and Gail & Rice worked together to provide lighting and video for a major automaker's 2010 lineup, which was introduced over two days in Chicago at the Arie Crown Theater and McCormick Place.
"Although the main event in the theater had a huge set, it wasn't an over-the-top spectacle," said Henry. "Given the economic downturn, we were charged with making the vehicles look refined and elegant rather than glitzy and ostentatious."
The stage at the Arie Crown Theater featured a scenic back wall with 30-by-80-foot screen that displayed video backgrounds and I-Mag over a 70-foot opening with sliding doors so the vehicles could drive on. The video content was provided by Gail & Rice.
Henry used moving lights to showcase the vehicles as they rolled out one at a time or in groups. Followspots illuminated the executives. On the second day in the theater, the 80-foot screen was replaced by a 40-by-80-foot cyc and scrim, which served as projection surfaces while the vehicles were revealed.
Meanwhile, at the Convention Center, guests circulated between two rooms to get up close and personal with the vehicles as one car at a time was showcased on a 40-by-40-foot stage in-the-round. Henry was tasked with making the vehicles sparkle without obliterating the cars with strong lighting.
During the project Henry also need to meet the challenges of a tight turnaround and budgetary limitations. He specified pre-hung truss to make the McCormick Place install quick and easy and implemented subtle lighting cue changes to be presentation-specific as various speakers took the stage.
"It was a challenging project," Henry noted. "We had to delineate between not appearing too flashy while adding excitement and anticipation to each car reveal. Scott and Chris have very strong conceptual ideas while at the same time open to collaboration from the rest of the team. "
"Andy and his team did a great job on the show, and it was fabulous to work with him again," said Scott Berlin, who is partnered with Chris Janese at Gail & Rice. "Andy and UVLD are unbelievably easy to work with and always provide a fantastic looking show. Plus, they made the project a very pleasant experience."
Chicago's The Lighting Connection (TLC) and Bill Nolan supplied lighting equipment for the project. At UVLD Paul Sharwell was moving light operator, and Greg Norgeot handled onsite lighting design at McCormick Place where Matt Webb assisted. Chuck Haigler was production electrician at Arie Crown Theater and O.C. O'Connel was the overall technical director.
For more information, please visit www.uvld.com.
Leave a Comment: