Vista Spyders Process Content for Dow Jones Video Walls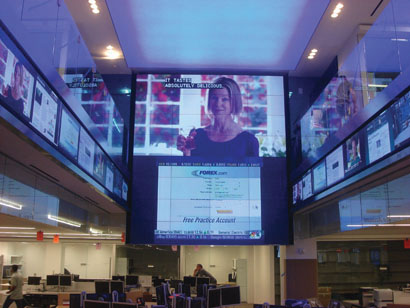 NEW YORK – A-V Services has installed Vista Spyder video/widescreen display processors for three large video walls on the trading floors at Dow Jones's new midtown Manhattan space. "The Spyders act as engines for the video walls, providing multiple windows of information and broadcast video to the trading floors," said Ralph Capria, president of A-V Services, which is based in Fairfield, N.J.
A total of seven Spyders consisting of a custom-configured mix of Spyder 200 and 300 series systems, are required for the three different video walls. Nick Asadourian, of New York-based consulting engineers Lilker Associates, provided AV design for the project.
One Spyder is dedicated to a large videowall of 40-inch bezel-less Orion plasma screens in a 12-by-three configuration. "It scrolls a constant stream of Dow Jones business information through a custom-written application from A-V Services," said Capria.
Another Spyder is on hand for a video wall that spans two stories in portrait mode on another trading floor. Its 40-inch bezel-less Orion plasmas take on a four-by-eight configuration in the atrium space where they display Dow Jones broadcasts and feeds of FOX News.
This wall is also surrounded by a U-shaped perimeter video wall suspended below mezzanine level. It consists of 40 displays, edge-to-edge in a ribbon configuration. Three Spyders are needed to process the three-section perimeter video wall.
All of the video walls can display single large images or multiple images combining the latest financial data and broadcast feeds. They feature Crestron control systems and custom GUI interfaces by A-V Services.
A-V Services, which designs and installs boardrooms, conference rooms, distance-learning centers and video walls for corporate clients, is a longtime user of Spyders in corporate installations and has "always been happy" with the equipment, according to Capria.
"The Spyder is a powerful and versatile video engine," he said. "They're able to create any configuration needed which makes them ideal for a lot of these applications. When you deal with large video walls like Dow Jones, multi-window capabilities are essential."
For more information, please visit www.vistasystems.net
Leave a Comment: