Vortek Hoists Used for "One-of-a-Kind" Theatre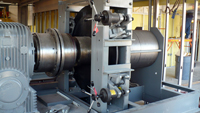 DALLAS — Custom hoists made by Vortek, a division of Daktronics Inc., have been installed at the Dee and Charles Wyly Theatre at the Dallas Center for the Performing Arts. The hoists manipulate hanging seating sections and work with Vortek Pro Series hoists in the theatre's complex fly system. REX/OMA, Joshua Prince-Ramus (partner in charge) and Rem Koolhaas commissioned the design for the theatre, which is 74,915 square feet in size, has a seating capacity of about 600 people, and is scheduled for completion in October 2009.
Among its other features, the theatre has been designed with vertically stacked floors that allow for support spaces above and below the auditorium, adding flexibility to the performance space.
"Taking the vision of the theatre consultant and architect of literally hanging the seating from the upper floors was an enormous engineering challenge," said Steve Hagen from Secoa, Vortek's authorized dealer.
"A lot of credit goes to Vortek's engineers and field technicians; the towers flew the first time the button was pushed," Hagen added. "The general contractor, McCarthy Building Companies, Inc., assembled a team that looked out for the owners' best interest and all of the subcontractors, along with the logistics of this one-of-a-kind building."
There are 51 hoists installed in the entire project, of which 45 Vortek Pro Series hoists and two custom hoists are installed on stage to control curtains and scenery. Four custom hoists are used for shifting the seating towers. Each is capable of moving horizontally and vertically with the lifting capacity of 60,000 pounds.
"It's a great opportunity to be the supplier of hoist equipment for the Dee and Charles Wyly Theatre," said Dave Lane, Controls Engineering Manager for Vortek. "A project of this size lets us really sink our teeth into the engineering to create a custom design."
"Richard Nelson, Vortek's Installation Supervisor, has been on the site during hoist installation to make sure all goes as planned," said Lane. "All Vortek Pro Series hoists were installed in December without any difficulties."
For more information, please visit www.vortekrigging.com and www.dallasperformingarts.org.
Leave a Comment: