World Handball Championships Lit by Robert Juliat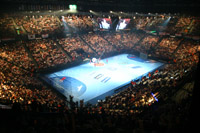 SPLIT, Croatia — Six Robert Juliat follow spots were used at the 21st World Handball Championships held here recently — two 1200W RJ Korrigans, two 1200W RJ Super Korrigans and two 1800W RJ Victors. The championship also helped open the 28,500-square-meter Spaladium Arena, which seats 12,000. Rhino Production supplied the gear. "In such a large venue, finding good followspots was high on my list of priorities during the preparation stage," said LD Boris Popovic. "Rhino Production, the rental company which provided the lighting and sound for the Ceremony, offered me six Robert Juliat follow spots. I made some calculations based on the data from the Robert Juliat Web site, and decided to take them.
"In the real world they performed even better than I expected, and the performers in the stadium looked great and were brightly lit in such a big venue. From now on I have no doubt which follow spot to use."
Rhino's Mladen Bjelkanovic suggested the gear to Popovic. "Robert Juliat was natural choice," Bjelkanovic said. "They are always here, ready to perform."
Igor Zlatkov, managing director of Robert Juliat's dealer in Croatia, ZI Lighting, noted, however, that for Croatians, at least, "this story does not have a happy ending — Croatia lost to France in the Handball final."
Those at Robert Juliat headquarters, however, were more sanguine, cheering "a double triumph for France."
For more information, please visit www.robertjuliat.com.
Leave a Comment: