Wybron BP-2 Used On Tour with the Killers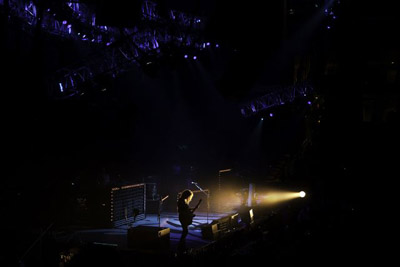 MIAMI — Steven Douglas, the show/lighting/video designer on the current tour for the Killers, has been using a lighting rig that includes 41 Mac 2000 washes, 34 VL 3000 Spots, 52 ColorBlast 12s, 18 i-Pix BB4s, 18 GLP Impressions and 27 Atomic Strobes with scrollers. The gear list also includes the Wybron BP-2 Beam Luminaire. "I needed a fixture to do a classic 'tungsten floor light' look for one particular song," said Douglas. "We had experimented with various MR-16 battens and omni photo floods, but as the band's singer uses a wired mic, it was causing too many problems, so they had to go.
"I've always loved the look of both the beam and the fixture itself when I've used other beamlights in the past, but they were always quite heavy. My idea was to have someone in the pit holding this light as a floor followspot, and the Wybron beamlight was the perfect solution. It's light enough to hold in hand for a five-minute song and still retains the necessary punch and classic look I needed."

The Wybron Beam Projector produces a bright, narrow, soft-edge 10-degree beam of light, and it weighs 11.3 pounds, light enough to use in hand.
The Killers crew includes Mike Kapler, FOH/media servers, Jim Petrusson, crew chief, Mondo Figeuroa, dimmer tech, and Darren Knorr, who's in charge of moving lights.
For more information, please visit www.wybron.com.
Leave a Comment: