Andrea Bocelli Concert in Roman Colosseum Lit with W-DMX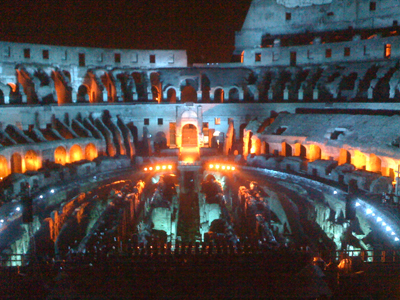 ROME — It may be one of the greatest examples of ancient Roman engineering, but the Colosseum in Rome is nearly 2,000 years old, and the venue never really had much of a hard-wired lighting control system to speak of, even when it was new.
Today, Roman officials looking after the ancient marvel aren't much interested in catering to the needs of touring concert promoters. In fact, authorities in Rome rarely give permission for concerts to be held inside the Colosseum at all.
But the authorities made an exception recently for a charity concert given by Andrea Bocelli to use his legendary voice to raise funds to help the victims of the earthquake that struck Italy on April 6. Bocelli, together with conductor Marcello Rota and the Symphonic Orchestra of Abruzzo, performed for a 90-minute concert in the Colosseum, and the event was broadcast live across Europe.
The concert was produced and organized by Four One Music & Events in collaboration with Comune di Roma and the Superintendence of Cultural Heritage of the Capital. Bocelli sang 12 arias and Neapolitan songs to an audience of several hundred people who paid 1,000 euros each — about $1,400 a ticket — to witness the historical event.
The proceeds of the evening were given in support of Abruzzo, to help rebuild the music conservatory of L'Aquila, which was severely damaged in the quake that killed some 300 people.
Lighting designer Nicola-Manuel Tallino created a scheme played up the features of the monument and followed strict guidelines as to what could and could not be installed. Because wires and cables were forbidden, Tallino turned to W-DMX for wireless control.
Tallino used 24 SGM Giotto Spot 1500 fixtures to light the lower sections of the stage, with 12 Giotto Beam 1500 moving head projectors, supplied by Agorà, lining the perimeter of the arena to give backlight. The fixtures set the arena's architecture aglow in soft pastel hues. The Giottos have W-DMX receivers built directly into the fixtures and ship directly from the factory.
The console was connected to a single W-DMX S-1 Transmitter and broadcast the DMX signal wirelessly for the entire duration of the concert, despite the profusion of live broadcast equipment and thick ancient stone walls.
SGM Lighting Group was a pioneer in incorporating W-DMX technology into their fixtures, starting in 2006 with the Palco 5 and continuing with the Synthesis and Giotto 1500 Series. Wireless benefits include a reduced reliance on cable, labor and rigging costs, according to Wireless Solution Sweden AB, makers of W-DMX.
For more information, please visit www.wirelessdmx.com.
Leave a Comment: