Aram Multimedia Provides LED Backdrop for Polish Beauty Pageants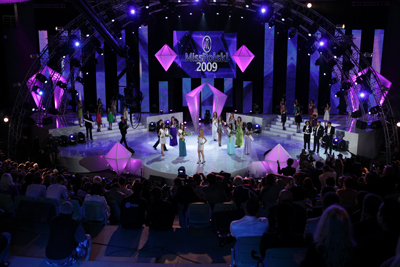 PLOCK, Poland —Aram Multimedia supported the finale for three beauty pageants that took place here recently, Polish Miss 2009, Miss Supranational 2009 and Miss Teen Poland, with nearly 80 square meters of LED curtain. The LED curtain, from Fourlight, provided LED visuals as a stage backdrop, and was hung on 17 suspended belts ranging in height from 3 meters to 7 meters. Aram also rented 20 square meters of LED screen, which was suspended in the center of the stage at the height of 3 meters.
The crew included the events' organizers, Pavel Zeitz and Gerard Parzutka, its director, Simon Losiewicz, lighting director Adam Tyszka, Leszek Malinkiewicz with the stage building team, the crew from Polsat, POKiZ and others.
For more information, please visit www.aram.pl.
Leave a Comment: